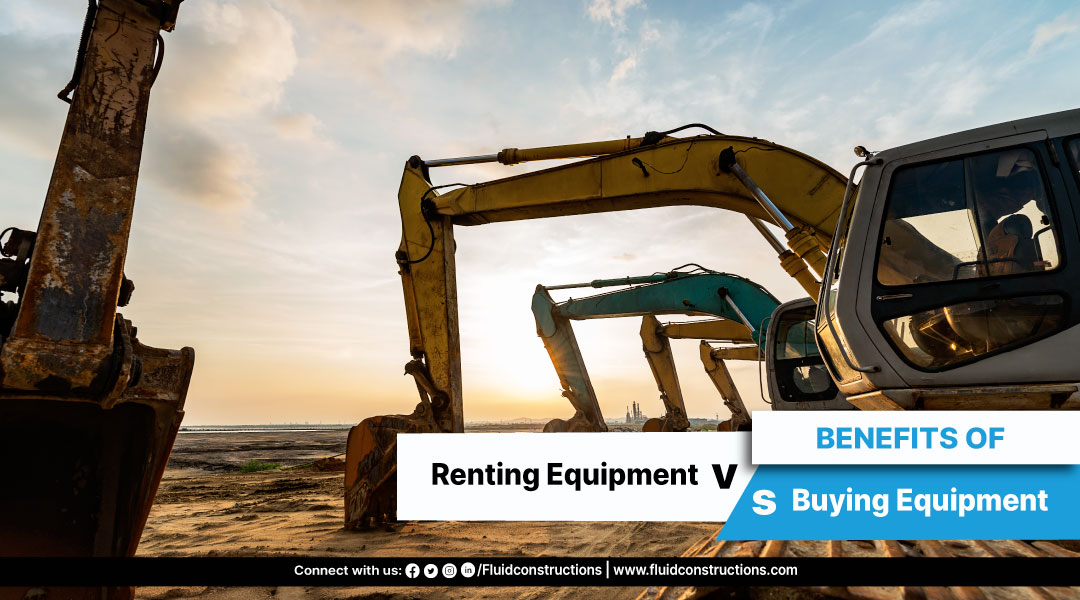 Benefits of Renting  Equipment vs. Buying
Modern-day construction is equipment intensive. If you are in civil construction and frequently deploy your teams for various project work, a significant decision that affects your profitability is whether you should rent or buy the tools to equip your people.
While conventional thinking would suggest that owning is a better option due to the fact that the monthly cost of renting construction equipment often comes higher than the financing cost for ownership, renting provides some unique benefits, such as greater flexibility, lower maintenance, and transportation costs, thus making it a viable alternative.
The decision of whether to rent or buy your equipment boils down to the following factors:
Specific job types and deadlines for a project
Cost of logistics
Cost of maintenance & repair
Tax implications
Types of equipment
Cost of equipment and its impact on cash flow
Let's dive deeper into these considerations.
Specific job types and deadlines for a project
The specifics of a job will strongly determine the type of equipment you'll require. For instance, if you specialize in concrete, you could wish to buy your concrete mixers, pump trucks, and drum rollers. These items are critical to the success of your job and are most likely inexpensive to purchase.
On the other hand, if you only take on specific tasks a few times a year, acquiring equipment may lock up too much capital in the assets.
However, while renting allows you to simply pay for the time you use the equipment, owning allows you to utilize it on your own schedule without worrying about availability difficulties.
Here are the main points to consider while choosing between buying and renting, going into a specific project:
Timeline of the project
How quickly do you require access to the necessary equipment?
How frequently will you be undertaking this type of job?
Storage fees for equipment
Cost of Logistics
Construction rental equipment providers will transport equipment to the required sites for you. But if you decide to purchase that equipment, transportation to different sites will have to be arranged by you.
So, if you need to move equipment from one construction site to another, calculate the costs of moving it yourself first, then crunch the figures to see whether renting is more cost-effective.
For example, suppose you pay Rs.2000 to transport your forklift each time, and you need to move it three times per month for a total of Rs.6000, but it only costs Rs.3500 to rent it. Why not save money by renting instead? What appears to be a high monthly price may save you money in the long term.
It is critical to consider not just the cost of hauling equipment from job site to job site, but also the possibility of needing particular pieces of equipment at many sites at the same time. Your company may be working on multiple projects simultaneously, and it may so happen that multiple sites require boom lifts, all at the same time. In this situation, renting or a combination of owning and renting would help minimize any logistical delays that may arise from carrying equipment to multiple job sites in a short period of time.
Cost of Maintenance & Repair
While some construction rental equipment businesses may insist you take care of daily upkeep, they provide scheduled maintenance and repairs onsite. Now, it'll be your duty to ensure the onsite maintenance and repair, if you own the equipment.
Do you have the financial resources to hire experts who will maintain the equipment and handle both routine and unforeseen repairs? If that's the case, how does it compare to the cost of renting the equipment instead? Keep in mind that extended warranty options can assist in offsetting this hidden cost of ownership when acquiring equipment. 
Tax Implications
Renting equipment is considered an operating expense, but owning equipment is a depreciable asset. Both qualify for corporate tax breaks. You may, however, opt for expediting the advantages of depreciation, dramatically cutting your current-year tax obligation vs. depreciating the item over time.
What Type of Equipment to Own
Unsure of what type of equipment is ideal for your expanding construction business? If you need a specific piece of equipment for a project right away but aren't sure which manufacturer or line is best for you, renting can help you make a more confident purchasing decision to better justify a long-term financial commitment.
Buying construction equipment may be the best option for you, but depending on your circumstances, renting may also make financial sense. Before making a decision, consider the big picture to determine the total cost and advantages for your company.
Budgeting for the purchase of equipment and its Impact on Cash Flow
Last but not least, how each option will affect your cash flow is an important issue when deciding whether to rent or buy. You will have the option of financing or paying cash upon purchasing. While financing the equipment is more cash-flow friendly, you must also consider the cost of financing the equipment, which includes:
Down Payment
Interest
Other Financial Charges
You'll have to examine how these combined costs compare with the rental cost. Even if the cost of financing looks to be higher, it'll lead to your ownership of the machine.
Conclusion
Given the significant cost involved and other factors, deciding between buying and renting construction equipment isn't always easy. One strategy is not always superior to the other; one may just be a better fit for your circumstances. Before deciding whether to buy or rent equipment as a construction entrepreneur, it's critical to consider the whole cost of ownership, as well as the benefits, against the pros and cons of renting.
Whatever path you choose, make a thorough financial forecast to evaluate how the expense will affect your cash flow—and, as a result, impact your ability to take on more and larger projects that will help your firm grow. You may consider contractor finance options to purchase the equipment you need to keep your firm going forward if cash flow becomes a barrier to success.