Address
1-Plot No 55, Utthan Nagar, Near Palloti School, Gorewada Ring Road, Nagpur – 440013
Fill all information details to consult with us to get sevices from us
Civil Construction has always been special to Fluid Constructions as our passage began with construction way back in 2011. Along with earth excavation, and road infrastructure projects, Fluid Constructions has maintained a separate team of services to cater to various types of civil construction, and road development projects.
Our expertise in construction stemmed from the famous Orange City Water Works project that eradicated the water woe of Nagpur through infrastructural upgrades and the replacement of numerous parts of an age-old water distribution system.
We are proud of our continuing association with the Nagpur Municipal Corporation through this gigantic project that covers 3000 Km of pipeline network and water connections to 450000 households from five water treatment plants with a combined capacity of 750 MLD.
Civil construction builds the world around us, the concrete world that we live in the present is all a gift of civil constructions. It is responsible for most of the structure build around. These structures are namely bridges, dams, wastewater treatment, skywalks, below mentioned are few more examples of civil constructions: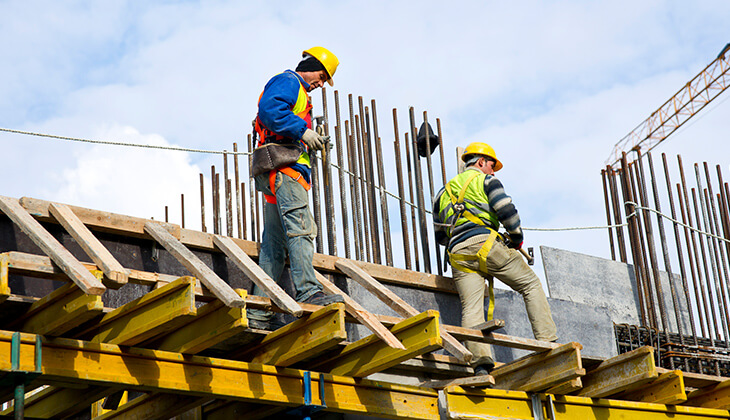 Commercial & Govt. Buildings: Commercial and Government buildings in Civil Constructions refers to building business structures for offices, warehouses, and manufacturing units. Government Buildings consist of Parks and Recreation Facilities, Police Stations, Courts or Judicial Centres, Maintenance Facilities.
Hospitals: These kind of construction activities are included in Institutional Buildings. These include hospitals, orphanages, mental hospitals, nursing homes, etc.
Bridges: Bridges are an important piece of construction as it helps in the transportation infrastructure. These are built in order to divert traffic loads of the highway. These are constructed to perform an effective communication between two destinations.
Pipe Laying: Pipe Laying is an important and integral part in the civil construction industry. Pipe laying is all about aligning pipes at an equal level in accordance to the blueprints created by the engineers. This includes constructing concrete structures and access points, using handy tools, laying and connecting the pipes, Formwork formation, laying and placing service pits. This process is carried on major infrastructure projects like Highways, Drainage, sewage, dams and many more pipelines.
Civil construction is commonly outlined as a branch of technology attached the upkeep, design, and development of each natural and physically designed environments. Civil construction corporations do over build structures. Contractors bidding on civil comes got to fathom grading, erosion management, access rights, public impact, legal rules, and far additional so that they will perceive what is concerned in any given request. If a civil construction company cannot handle each step themselves, they need to be ready to subcontract the extra steps properly.
We at FluidConstructions aim and strive for best quality in all the work of construction, excavation that we execute. Our mission is to not compromise on our values of commitment.

Sustainability
Benefit of the socials where we oper ate success for the websit them to reduce cost

Project on time
Benefit of the socials where we oper ate success for the websit them to reduce cost

Modern Tech
Benefit of the socials where we oper ate success for the websit them to reduce cost

Latest Design
Benefit of the socials where we oper ate success for the websit them to reduce cost