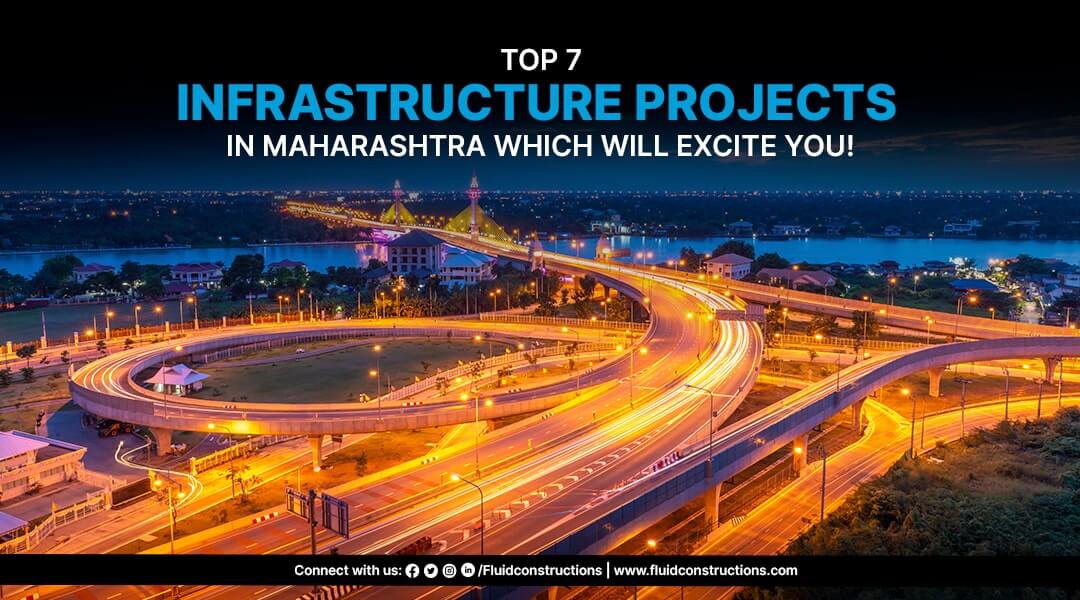 Top 7 infrastructure projects in Maharashtra which will excite you!
India is a country that has been rapidly growing in terms of its economy and infrastructure. We have seen the development of metros, airports, and roads but there are many other projects which are still on the cards. The government has made huge investments in these projects over the last few years and now they will help improve connectivity for people living in different parts of India as well as tourists visiting this country for business or leisure purposes. Read about some of the top infrastructure projects in India.
Read about the top 7 infrastructure projects in India
Infrastructure projects in India are a new and emerging sector. Infrastructure services have been growing at an exponential rate and it has become one of the most important sectors for growth in India. The Government is encouraging private companies to invest in infrastructure projects by providing them with tax benefits and other incentives such as land compensation, etc., which helps them achieve their targets faster than what they could have done without these incentives from government authorities.
#1. Nagpur Metro
The Nagpur Metro is a mass rapid transit system, which is the first metro rail project in Maharashtra. The project was approved by the Maharashtra Government in 2016 and it is being implemented by Nagpur Metro Rail Corporation Ltd (NMRCL).
The total cost of this project has been estimated at Rs 13,000 crore while its ridership capacity will be around 1.5 lakh per day at peak hours. According to NMRCL officials, they are expecting more than 20 lakh passengers every day on average within five years from now onwards after the completion of all corridors including three lines from Harihareshwar to Shastri Nagar, etc. which will facilitate commuters traveling along these routes easily without any hassle or problems
#2. Mumbai-Nagpur Super-Communication Expressway
The Mumbai-Nagpur Super-Communication Expressway is a proposed highway that connects the cities of Mumbai and Nagpur. The project will be completed in three phases, with an estimated cost of Rs 16,000 cr.
The highway will reduce travel time between these two cities by 5 hours as well as fuel consumption by 20%.
#3. Mumbai Trans Harbour Link (MTHL) Project
The Mumbai Trans Harbour Link (MTHL) is a proposed engineering marvel and will connect Mumbai to Navi Mumbai. It will be India's first sea bridge, which means that it will have two roads on each side of it, allowing vessels to pass through easily. The MTHL project was conceived by former Prime Minister Manmohan Singh during his tenure in office between 2004-09.
It has been estimated that over 100 million commuters travel across this stretch daily and the existing infrastructure cannot cater to all their needs because there are only two bridges connecting them with mainland India: one at Nerul Bridge near Thane and another at Kharghar near Navi Mumbai airport.
#4. Samruddhi Mahamarg Project
The Samruddhi Mahamarg project is being implemented as a PPP model under the National Highway Development Programme (NHDP) Phase III. The project involves the construction of a four-lane part of the existing Mumbai-Pune Expressway and its widening to six lanes on a new alignment. The total length of this expressway is about 170 km, which includes two tunnels at Lonavala – Yerawada and Ugaon – Dharmabad section, three bridges over rivers at Khed Taluka: Bhimashankar Dam Bridge, Yadav Tunnel & Shaniwar Wada Bridge; three flyovers at Worli Sea Face area; one helipad at Worli Sea Face area; four roundabouts at Vashi Toll Plaza, Jogeshwari Toll Plaza & Santacruz Interchange (Bandra)-Ghatkopar Road junction/station etc., four underpasses connecting with local roads/streets near toll plaza areas such as Shahpura Underpass near Vashi Toll Plaza; two culverts connecting with local roads/streets near toll plaza areas such as Delhi Garden Underpass near Mumbai Central Station (Worli)
#5. Pune Metro Rail Project
The Pune Metro Rail Project is a proposed mass rapid transit system for the city of Pune, Maharashtra. The project is estimated to cost Rs.16,000 Crore and will be implemented by MMRDA (Maharashtra).
The first phase of this project was awarded to Larsen & Toubro and Civil Engineering Company in February 2014 after an open tender process where various companies submitted their bids for construction work on this network.
The route will have five lines with a total length of 27 km. It will have 13 stations: four along each line from Ghatkopar (21 km north-east) towards Charoti via Vidyanagar, two stations along both lines from Charoti towards Mhaswad via Kalwa, one station at Kalwa itself, and another one at Badlapur.
#6. Pune-Chennai Super-Communication Expressway
The Pune-Chennai Super-Communication Expressway is a 6-lane, access-controlled expressway that will be built on the alignment of NH-4. This project will be executed by the Maharashtra State Road Development Corporation (MSRDC).
The proposed Expressway will have four interchanges at Badlapur, Wakad, Akola and Purna. It will also have three flyovers at IGP Flyover near Mahalaxmi Temple in Mumbai; the Vashi Bridge over the Western Express Highway near Thane Municipal Council Office; and the Nh8 Flyover near Malad East Station of the Western Railway Line.
#7. Elevated Rail Corridor Project (Between Virar & Alibaug)
The elevated rail corridor project is expected to be completed by 2022. It will connect the Mumbai Suburban Railway system with the proposed Navi Mumbai International Airport, which is being developed on land reclaimed from water and marshland.
The elevated rail corridor project also connects the existing Mumbai Suburban Railway system with this airport and other parts of Navi Mumbai.
Conclusion
We hope you have a great time reading about these projects. We also encourage you to visit the websites of these projects to learn more about them and how they can benefit your city or region and keep checking this space for more such blogs.