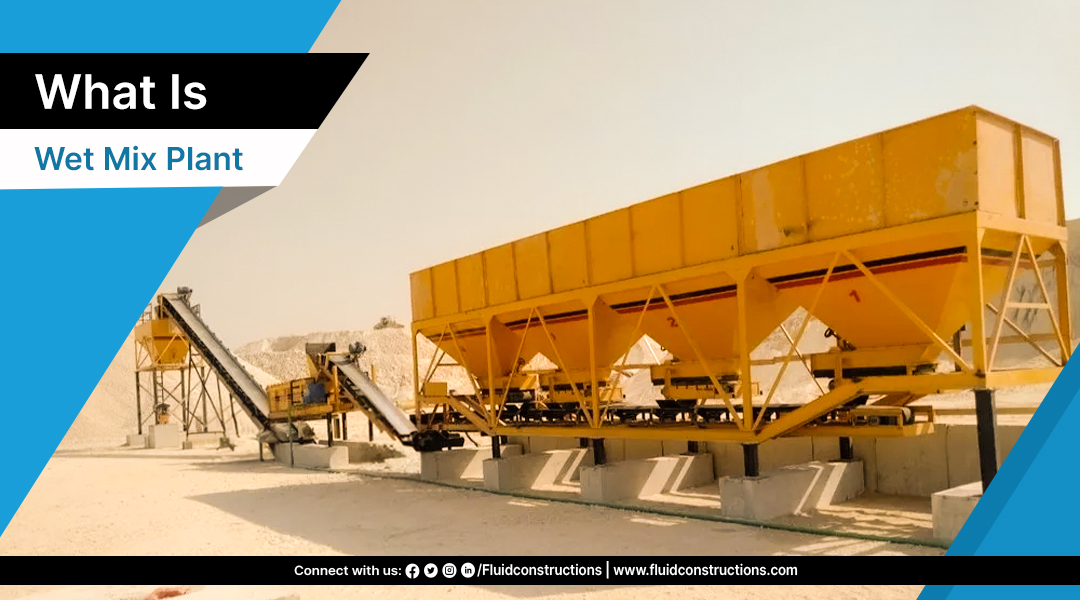 What is Wet Mix Plant | Fluidconstructions
  What is Wet Mix Plant
A wet-mix plant plays an important role in asphalt road construction as it helps build the base course. The base course is made of bituminous macadam produced in a wet-mix plant to form the vital middle layer that provides stability to the road by effectively distributing traffic loads and environmental impacts to the lower layers.
Bituminous macadam, or wet-mix macadam, is composed of crushed aggregates, water, and bitumen emulsion as the binding agent. There can be a variety of aggregates used in bituminous macadam, such as crushed gravel, crushed stone, crushed slag, or emulsified asphalt. All ingredients are used in the correct ratios to produce the macadam mix with the desired performance
For the construction of highways, the base course layer of thickness 100 – 300 mm is laid beneath the hot-mix asphalt layer and above the sub-base layer. Well-prepared bituminous macadam collected from a wet-mix plant is spread and then compacted to make a dense, thick layer.
The water mix macadam (WMM) is a new technique for preparing macadam mix. Previously, the water-bound macadam (WBM) method was used. Though the WBM method is less expensive than the WMM, the latter provides numerous advantages.
Advantages of using Wet Mix Macadam
Wet Mix Macadam roads are renowned for being a lot more resilient.
Wet Mix Macadam roads typically dry up more quickly than usual. Due to this, WMM roads can handle traffic more quickly than WBM (Water Bound Macadam) roads. WBM roads may take around a month to be entirely dry.
Bituminous layers can be applied to Wet Mix Macadam roadways quickly for maintenance.
These roads are more practical because they are typically built quickly.
They use a lot less water than alternative road construction techniques.
The size of the stone aggregates used in Wet Mix Macadam roads varies from 4.75 mm to 20 mm.
The WMM mix output from the WMM plant should satisfy the following standards:
The combined impact value should not be more than 30%.
The combined flakiness and elongation indices must not exceed 35%.
The water absorption value of the mix should be higher than 2%.
Materials with a fineness of 425 microns or less must have a plasticity index (PI) of no more than 6.
The mix graduation must comply with MoRTH Table 400-13.
What Equipment is needed to Build a Wet Mix Macadam Layer?
The WMM base course layer necessitates the use of a variety of equipment types, such as:
A Wet-Mix plant
A water tanker
Tipper or Dumper
80 to 100 KN smooth wheeled vibro roller
A motor grader or paver finisher is ideal for paving a width of 9 metres
instrument for surveying
How does a Wet-Mix Plant function?
A wet-mix plant consists of a manually controlled feeding system of separate feeder units. These feeders deliver different aggregate materials to a slinger conveyor. The slinger conveyor transfers the aggregates to a pug mill through an input hopper. In the pug mill, the aggregates are completely mixed before being discharged using hydraulically driven discharge gates to the dump-truck.
What are the Components of a Wet Mix Macadam Plant?
Aggregate Feeders
It is a four-bin aggregate feeder with a manually adjustable gate in each of the bins. The four bins can stock and store the four types of aggregates with the help of these gates. These gates make the wet mix process run more smoothly by controlling the discharge of the ingredients from the bins.
Vibrating Screen
The single-deck vibrating screen in a wet mix macadam mill plays a very important role. It is installed on the slinger conveyor to filter aggregates from oversized pieces before transferring them to the pug mill.
Conveyor
The conveyor transports the material that has been filtered through a vibrating screen to the pugmill mixer. As the aggregates are delivered to the mixer, the water and bitumen (or cement) flows are synchronised, enabling a smooth mixing process to produce a homogenous mix.
Pug Mill Mixer
A Pug Mill Mixer is made up of various parts, including liner plates, tips, and arms, which thoroughly scatter the ingredients as they reach the water.
Loadout Conveyor
The loadout conveyor at the wet mix macadam plant transports the mixer to the storage area. The mixer is subsequently moved to another truck for additional processing.
Water Tank
15-20 MT water tanks made of steel plates with pumps and flow metres are used to maintain an even flow of water.
Mineral Filler
Steel-made mineral fillers feed the pug mill with the required amount of additives.
Silo
Storage Silos of different storage capacities are also installed so that the operation does not have to be stopped while waiting for trucks. Silos are essential for maintaining workflow under difficult operating conditions.
Control Panel
An automatic control panel with the operator regulates the amount and quality of output.
Why are Wet Mix Macadam Plants preferred in Road Construction?
The operation of a wet mix plant is largely dependent on the integrity of the components and the use of the right materials. Below are some of the key benefits of a wet mix macadam plant and why they are preferred:
The production rate has increased, resulting in a high-quality blend.
The wet mix plant is simple to operate and comes in a variety of sizes, including stationary and portable models.
A wet mix plant's overall upkeep is quite simple.
The advanced design used in a wet mix plant ensures a high-quality, homogenous mix of bituminous macadam.
A WMM plant employs an efficient aggregate feeder and a system to provide extremely accurate additives.
A Wet Macadam mix plant can be built with capacities ranging from 100 to 160 tph and up to 200 tph. This permits the contractor to use a variety of options throughout the duration of the project.
Maintenance of a WMM plant is low and easy.
A wet mix macadam plant is a crucial component in a road construction project to readily provide sufficient and the right quality of macadam mix and finish the work on time.
Until now you may have a good understanding about Wet Macadam Mix Plant and its uses in construction. Wet Mix Macadam Plant is the preferred choice of contractors and engineers who aim to build solid infrastructures.
If you're just starting out in the field of construction or an experienced contractor, this blog has all the information you need to know about the Wet Mix Macadam Plant in order to build super solid infrastructures.
If you're curious to learn more about construction materials, building infrastructure, or anything related to constructions, explore our other blogs.