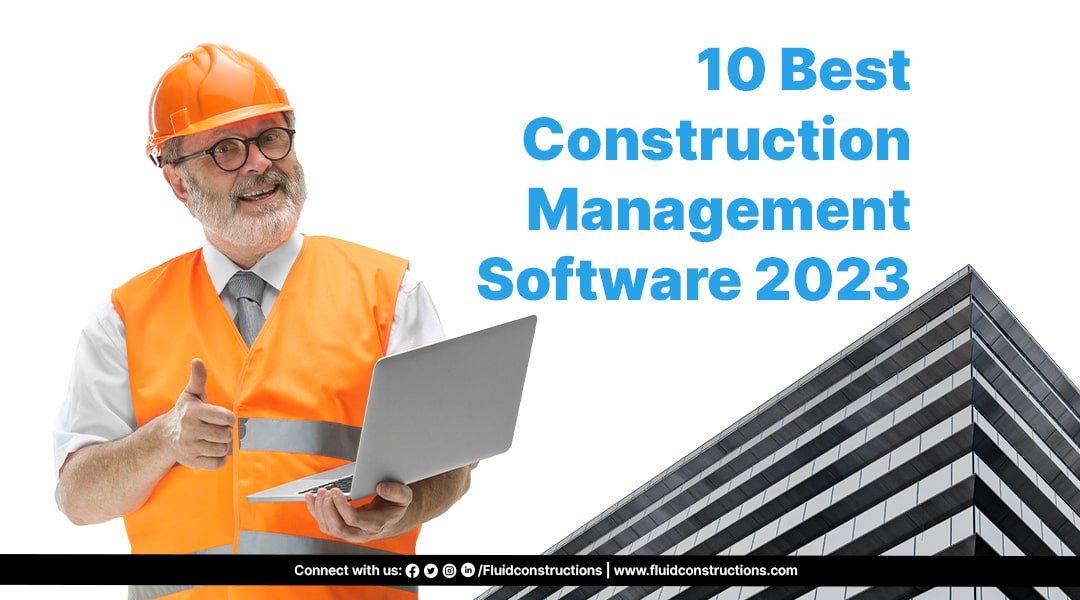 10 Best Construction Management Software 2023
10 Best Construction Management Software 2023
A construction project involves numerous processes and functions both onsite and offsite, which would often see project delays and cost overrunning. Fortunately, the scenario is changing with the increasing use of construction management software.  Despite being a late starter, the construction industry has adapted to automation just like all other industries, to overcome many generic challenges. Using construction management software is fast becoming a common practice in construction. 
What are the benefits of construction management software?
Construction management software is a tool for planning and managing construction projects. It is useful for tracking project progress, creating and tracking schedules, and managing finances. 3D models of construction projects can also be created using construction management software. This can be useful for visualizing and planning the project. We have compiled here the 10 best construction management software that affects construction in terms of streamlining the processes, speed of work, and overall management:   
BIM 360 is one of the best Construction Management Software to connect, organize, and optimize your projects. BIM 360 is a unified platform connecting your project teams and data in real-time, from design through construction, supporting informed decision-making and leading to more predictable and profitable outcomes. BIM 360 software connects, organizes, and optimizes your projects using a single platform for construction management to improve decision-making and realize more predictable and profitable outcomes. This is one of the best software that is used by general Contractors, subcontractors, architects, building engineers, civil engineers, and owners.
Autodesk Construction Cloud is a robust software suite designed to streamline construction project management. The software offers a range of features that enable construction professionals to manage every aspect of their projects efficiently. Some of the standout features of Autodesk Construction Cloud include document management, project management, and field management tools. With document management, users can store and access all their project documents, including drawings, specifications, and contracts, in a centralized location. The project management tools enable teams to track project progress, create schedules, and collaborate effectively. The field management tools allow users to manage job sites, track issues and defects, and oversee construction activities in real time.  The software also offers a range of analytics and reporting features, enabling users to gain insights into project performance, identify areas for improvement, and make data-driven decisions. Overall, Autodesk Construction Cloud is a powerful tool that can help construction professionals optimize their processes, reduce costs, and deliver projects on time and within budget.
This is a complete Construction Management Platform. Procore is one of the best commercial project management software, which is practically an all-in-one construction program. The open API flexibility of Procore allows you to build a single source of accurate and up-to-date data that integrates all of your siloed apps so you can access and receive reports across platforms. As a software solution dedicated to construction, Procore collaborates with its clients closely to ensure a high degree of efficiency in all operations. According to its website, it claims a 90% customer satisfaction record.
Buildertrend may be expensive, but this cloud-based project management tool is one of the best to offer the building sector better handling of construction projects. By minimizing delays and eliminating communication blunders, this software helps with the speedy completion of projects to maximize client satisfaction. The Buildertrend feature set is intended to simplify every step of the building process, from client communication and document management to estimating, scheduling, and change order features.  You can add documents and photographs, create, assign, and track projects, integrate your favorite calendar to manage schedules, generate reports on work-in-progress, and monitor revenue. Additionally included are payment processing, bid requests, and invoicing.  Moreover, you can integrate your accounting program to have Buildertrend automatically update invoice information.
Contractor Foreman is a cloud-based software, based on the typical methodology of most construction project management software. You can access it from your mobile phone, PC, or tablet as long as you have the app installed and an internet connection.  What sets Contractor Foreman apart from its competitors is its ease of use. Its user interface offers an intuitive flow, so you can easily get to your tasks, documents, client information, work and change orders, invoices, and punch lists. It's crucial to pick a plan that'll benefit your project the best. The majority of what you need to run a project is included in the lower-tier plan. The more expensive plan comes with financial controls that will help you in bid management, job cost reports, digital signatures, and QuickBooks interfaces.
Creating daily reports is bothersome. This software will help you to save considerable time creating daily reports. CDR – Construction Daily Reports is the quickest and easiest configurable daily reporting solution for the construction sector, available on our mobile app for Android and Apple devices, as well as our website portal.  Customize your reports, add your project data, and then take photographs and notes with your mobile device. When you are finished with your reports, CDR will automatically email them in professional PDF format to anyone you choose while saving them on our servers and uploading them to your cloud storage service! Construction software that is simple to use and saves time. 
Job progress integrates numerous features and controls in one location for convenient construction project management, from proposals and bids through task and job administration. The program is built by contractors to ensure that all functions are available and that it is simple to use. Users can assign tasks to employees, schedule meetings with clients, and monitor the status of any ongoing projects. Job Progress allows you to make estimates and quotations, proposals and contracts, digital signatures, and bills. There's no need to connect to third-party storage services because Job Progress provides limitless cloud storage for all of your documents, photographs, and data.  Job Progress connects with QuickBooks, Google tools, and Zendesk, greatly expanding the software's usefulness. You will be able to sync invoices between your accounting and project management software using QB accounting connectivity, however, P&L will require manual entries in Job Progress and QB.
The ability to ensure that the proper tool is always in the right location is crucial for any project that relies largely on tools and equipment. ToolHound's robust tool and equipment management software provides the performance and usability required to help you obtain complete control of your tool and equipment inventory.  ToolHound is a popular inventory management program used by construction organisations of all sizes. From the days of paper-based systems and rudimentary spreadsheets, this equipment and tool management software has grown.  ToolHound efficiently manages the issuance and return of tools to contractors and staff, as well as the transit of equipment between various job sites and tool room locations, by utilizing a comprehensive database in conjunction with a simple and precise bar code or RFID-based transaction system.
Houzz Pro is a popular company management software for home builders and designers. This provides an all-in-one solution that covers the entire client lifecycle, including marketing, CRM, estimation and proposal creation, and project management.  This also aids in the creation of 3D floor plans, online invoicing and payment collecting tools, and client collaboration tools. 
Fieldwire is a cloud-based project management solution that incorporates the majority of the tools required to run a construction company. It can be used in both residential and commercial projects by general contractors and subcontractors. Fieldwire allows users to set jobs, view plans, and create or access digital punch lists, saving time both in the field and in the office. Having all of your documents in one location makes it much easier to provide transparency to clients, allowing them to view timestamps and RFIs as needed. Fieldwire necessitates the usage of a third-party storage service, such as Dropbox.  So, you'll likely have to pay for a storage app in addition to Fieldwire. There is no tool for creating bids or proposals, but you can design custom forms and templates to make them yourself and track them in Fieldwire.