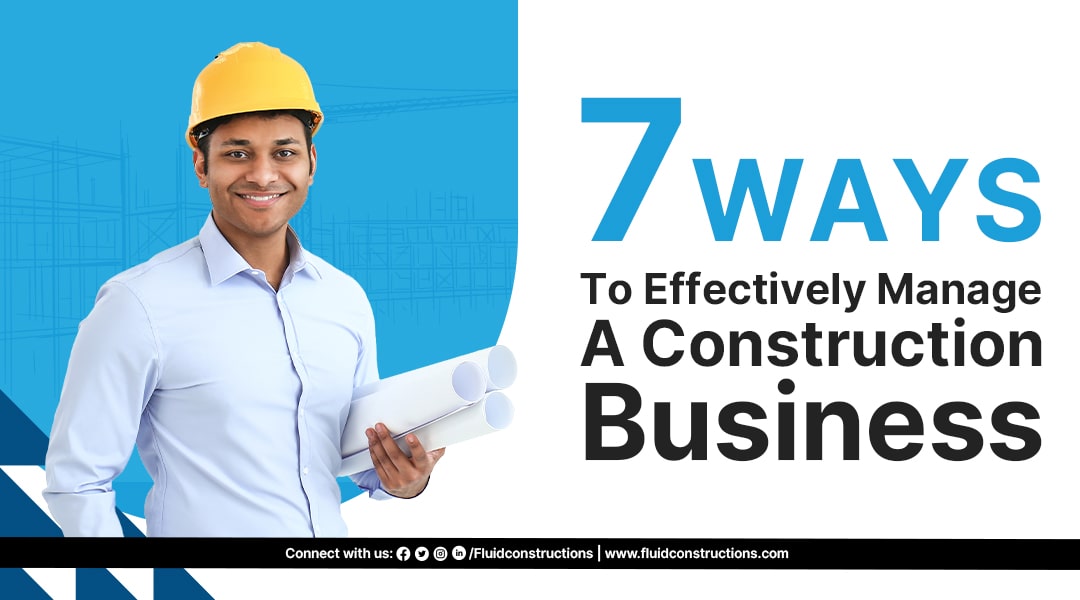 7 Ways to Effectively Manage a Construction Business
With its business volume projection of $1.4T by 2025, the construction industry in India is one of the most lucrative fields to set up a business. But with opportunities comes competition. Because of its capital-intensive nature, lack of skilled labor, and other hurdles, stability and growth of a construction business can be an uphill task. 
If you already own a construction business or want to start one, here are the seven basics you should never shift your focus from, in order to circumvent the pitfalls and challenges associated with this industry.
#1. Develop a niche for yourself
There can be so many construction business ideas that require different skills, equipment, and nature of work. If you have expertise in a certain type of construction work, you should always try to make a strong base in that niche
A great way to make sure you're the one a customer calls when the window cracks or the roof starts to leak is to market your business as the best in window installation or roof repair. Even if you're a general contractor, you can position your business as a specialist in A, B, or C while still providing a wider range of services.
#2. Invest in publicity and branding
Publicity is absolutely important for any business and so is developing a brand. Make sure that your construction business plan includes a consistent marketing strategy on social media and other digital channels. Though it's always great if you can acquire clients through word of mouth (which will happen after you earn credibility through good performances), developing a clever marketing strategy is a proven way to grow your business. Applying some simple branding tools can really help to get your company's name out there so that people think of you when they need a contractor.
#3. Build a team of experts
It is the team of a construction company that makes it successful, not the company itself. It is therefore crucial to choose the right employees carefully. You need a group of knowledgeable, committed employees if you want to be successful in the construction business.
Before hiring a candidate, you should conduct research to ensure that the candidate has the necessary skills and experience. To get a better understanding of their credentials, look at their references and employment history. Take your time to screen applicants carefully once you begin to receive applications.
You can avert many potential issues by employing qualified and experienced people. They should be able to offer different viewpoints to solve problems. Also, developing a strong working relationship with the team can speed up and improve the efficiency of the construction process.
It's also important to note that having a project manager always helps in meeting the customers' requirements and deadlines. So, investing in a project manager is always a smart move for your construction company. Finding project management expert candidates shouldn't be difficult through LinkedIn and job portals.
#4. Arm your workforce with high-quality equipment and tools
You need not have to buy brand new and most expensive equipment available. Rather, you should do research to find sturdy and durable tools in good condition at lower prices. Tools that are too cheap may not last long, causing delays and lost productivity. 
By providing good quality equipment, you can be sure that your staff members will have the best chance of completing projects on schedule and within budget. Additionally, it will lessen the overall wear and tear on your equipment, saving you money over time. It is also to note that if you have top-notch tools and equipment, you will be able to charge more for your services.
Once you have quality tools and equipment, you should take good care of them. Make sure they are delivered to you in completely okay condition. For this task, you can hire heavy equipment haulers.
#5. Stay connected and involved.
You must always be accessible to your clients. Your clients might have inquiries or just want to know how things are going as construction can be confusing to those who are unfamiliar with it. They will feel more comfortable hiring you in the future or referring you to a friend if you take the time to listen to them and allay their worries.
Secondly, staying involved also entails physically being present to oversee operations. Although it is obvious that you cannot be everywhere at once, it is crucial that both your clients and staff get the message that you are committed to the project and could visit the site anytime. This will demonstrate to your customers that they are important, and it will serve as a reminder to your staff that they must deliver their best work.
#6. Don't compromise on quality for extra profit 
In construction projects it's a common mistake many contractors make that they use cheaper materials or not-so-good labor. It's important to remember that they run the risk of getting blacklisted and even penalized if the project fails to perform as expected. 
You must ensure that the material, equipment, and labor you use are reliable and capable of delivering the best solution, quality, and workmanship. For instance, when working in an area susceptible to wet weather, purchasing stainless steel screws might be a wise choice. Clients may not have the expertise to understand the difference in the beginning, but they will undoubtedly notice if something starts to rust or malfunction.
#7. Identify the probable risks and develop a risk management plan
Some risks, such as chances of mishaps and injuries, are inherent in the construction line.. Other risks involved are the risk of project delays or cost overruns. While the risks of accidents can be dealt with by taking improved safety measures and training, the other risks can be minimized through effective planning and execution.
The creation of an effective risk management plan is one of the best ways to recognize and control risks. The most likely risks to your project should be identified in this plan, and procedures for reducing those risks should be put in place. Additionally, as the project develops and new risks surface, it's critical to periodically review and update your risk management plan.
Timely communication with all stakeholders is another crucial step in risk management in a construction project. This entails updating them with the changes in the risk management plan and the progress of the project. You can avoid misunderstandings that might cause expensive mistakes by being proactive in your communication with stakeholders.