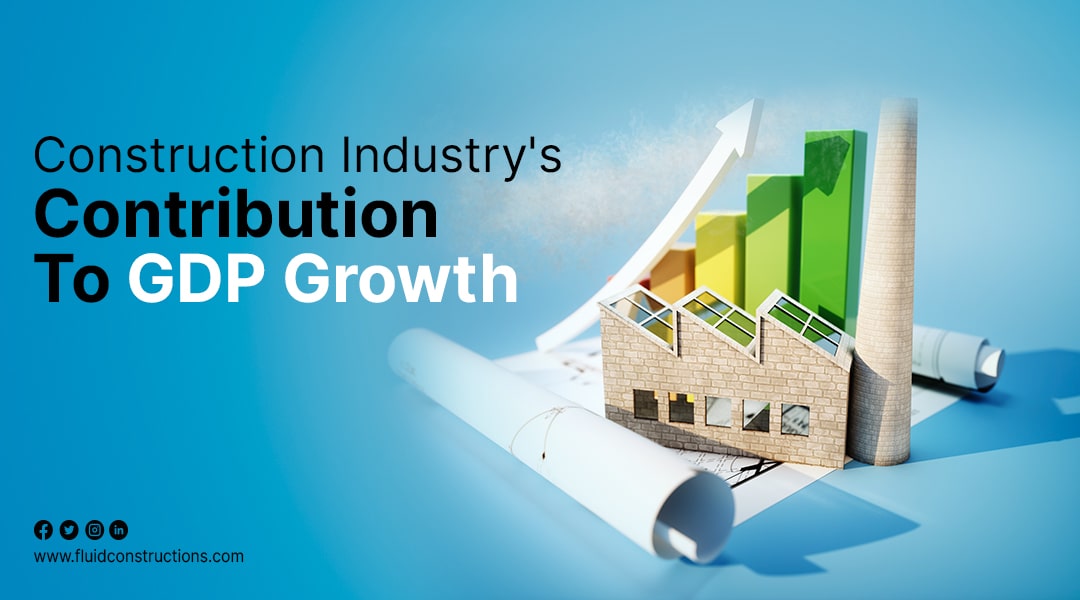 Construction Industry's Contribution to GDP Growth
The construction sector in India is considered 3rd among the 13 major economic sectors and is the second-largest employment generator after the agriculture sector. If everything goes well, the construction industry's contribution to the GDP of India will be 12-15% by the end of 2025
Construction, due to its role in every economic development activity, is one sector of the economy receiving increasing attention as a possible area that can stimulate development and growth across all segments of society. 
How does the construction industry contribute to GDP and economic growth?
By achieving some of the fundamental goals of development, such as output generation, employment creation, income generation, and redistribution, the construction industry supports economic growth. In addition, it plays a significant part in providing for basic physical and social needs, such as housing, infrastructure, water treatment reservoirs, and so forth.
As an enabler of infrastructure development, construction is crucial to the expansion of the economy. As a measure of consumer confidence, new home construction statistics are frequently used to assess the state of the economy. The GDP rises along with an increase in construction activity, which in turn has a positive impact on employment and tax revenue.
A glimpse of construction's role in global development 
Construction is a key industry in every market economy on the planet. The state of construction is often considered by experts the first sign of the economy's health. Its acceleration sparks a booming economic expansion and a slowdown causes a downturn in the economy. Building roads and installing reliable electricity have a transformative impact on citizens' lives and business prospects. Maintaining economic growth even in developed economies requires building new and upgraded infrastructure to meet demand.
Hong Kong, Taiwan, and Korea have all used the construction industry to propel their economies forward. By rebuilding their cities, highways, etc., Malaysia and China are employing the same tactic to establish themselves as major players in the international economy. The U.S. Census reports that $1303.5 billion was spent on construction projects in 2019.
The impact of the construction industry on GDP and economic development far outweighs the direct contribution of construction activities because it not only has a direct impact on the global economy but also has important links with other industries. Infrastructure development encourages GDP growth, and infrastructure accessibility can boost output and foster cooperation and competition.
Construction industry-added value makes up about 5% of GDP in developed nations and 8% of GDP in developing nations. In the following two decades, there will likely be a significant demand for infrastructure. Global infrastructure spending is anticipated to reach US$3.7 trillion annually by 2040. South America and Africa are the two regions where the infrastructure investment gap is highest, compared to other regions.
The multifaceted role of construction in the Indian economy
The sectors of real estate, infrastructure, and urban development are all part of the Indian construction industry. The real estate segment includes all types of buildings, including homes, offices, shops, hotels, and theme parks. The urban development segment has several sub-segments, including those for transportation, schools, healthcare, sanitation, and water supply. As a result, there are connections among the nearly 250 sub-sectors that make up India's construction industry.
Any budgetary restraint on construction will decrease activity, which will eventually result in a decreased GDP and slowed economic growth. Any change in the output level of construction will have a significant corresponding impact on the national economy.
Despite the substantial direct contributions that construction makes to development, it also fosters a sizable amount of economic growth through backward and forward links. Due to the substantial need for goods and services from other industries, the growth of the construction industry stimulates these supporting industries, which promotes further economic growth. Construction of physical facilities accounts for more than half of gross domestic investment in developing nations and is frequently focused on the most basic transportation, communication, and utility infrastructure. Infrastructure services contribute to GDP in some ways, but they also encourage the growth of other industries, which in turn boost it more directly.
By 2030, the real estate market is projected to be worth USD 1 trillion and grow at a CAGR of nearly 15%. India's infrastructure is anticipated to expand at a CAGR of roughly 7% over the course of the forecast period. By 2024–2025, the government intends to lavishly fund infrastructure projects.
Constant focus on infrastructure development in India
Infrastructure development is key to achieving India's target of $5 T GDP by FY25. With the emphasis on creating physical infrastructure, massive investment is planned in this sector. The National Infrastructure Pipeline (NIP), launched by the Government of India in August 2020, is a pool of projects to be implemented countrywide between 2020 and 2025. 
The initial amount of funds allocated to NIP was Rs. 102 L Crore (US$ 1.3 T), which currently accounts for 9000 projects covering 34 infrastructure sub-sectors. The projected capital expenditure in infrastructure in India for fiscal 2020-2025 is primarily focused on sectors such as energy (24 percent), roads (19 percent), urban (16 percent), and railways (13 percent).
Infrastructure public-private partnerships have been a significant source of funding for the industry. India comes in second place among developing nations in terms of both the total number of PPP Projects and the investments that go along with them. 
The government established the Viability Gap Funding (VGF) programme to offer financial support to PPP projects that are socially and economically desirable but financially unviable. In accordance with this programme, grants are used to fund up to 20% of the project's costs.