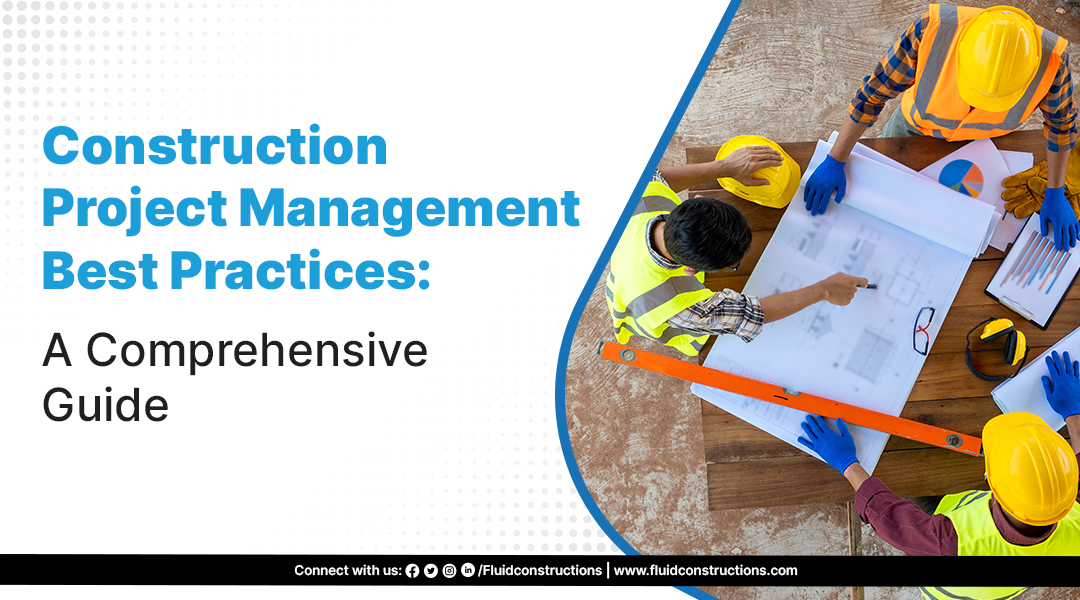 Construction Project Management Best Practices
A construction project comprises such a large variety of functions that putting them in synergy for the best result is a big challenge. You have to complete the project on time, on budget, and without any accidents. Following the construction project management best practices becomes imperative for the project manager.
Construction project management holistically covers all functions of a construction project, starting from creating meticulously detailed plans to establishing appropriate milestone targets, optimizing budgeting methods, developing effective communication processes, collaborating with teams, ensuring the supply chain for materials, and so on. Let's look at it from the perspective of a project manager.
What Is Construction Project Management?
Construction project management is a combination of many skills and disciplines to monitor and supervise a project from beginning to end. Going through the operation, the project manager has to handle numerous critical issues, such as cost control, scheduling, procurement, and risk assessment. This necessitates the project managers to work with all members of the construction team, from architects to owners, and to the contractors.
In a construction company, financial planners and C-suite executives, as well as contractors, engineers, and on-the-ground crew members, are all part of the construction project management team. But the most crucial to the entire process is the role of the project manager. 
The responsibility of the project manager is to guarantee that the entire construction process runs smoothly and according to plan. They are in charge of adhering to a strict timeline, remaining within budget, allocating resources, avoiding scope creep, and assuring quality. They evaluate hazards in real time and keep stakeholders updated. The project manager supports efficient procedures that would not be achievable otherwise by centralizing information and streamlining communication.
Construction project management is evolving. Companies all across the world are turning to digital and mobile solutions for long-standing concerns such as communication, material ordering, and project timeframe. That apart, the project managers should stick to the fundamentals of project management, as given in the following:
1. Always be prepared for the unexpected.
While meeting project objectives, construction personnel must realistically plan for probable hazards. Identifying and resolving potential problems is critical, as 50% of construction projects fail.
Disagreements between builders, clients, and contractors over project details cause costly delays. They will diverge if the owner does not convey project expectations.
2. Working as a Planner While Supervising Construction Projects
A building project manager who dislikes planning will fail. Construction project managers, like their colleagues in other fields, must be able to see and capture the large picture.
Understanding how today's efforts will affect the project tomorrow and beyond is part of planning.
Construction project managers that are successful begin with the correct employees, equipment, and supplies. Finally, you must ensure that the project is well-coordinated and well-organized.
Due to inadequate planning, many construction project managers find themselves rushing from disaster to disaster. Not procuring materials or having adequate staff significantly hamper project completion.
3. Always Maintain Effective Communication
Effective communication is essential in managing team expectations. In the construction industry, quick and clear communication is essential. Delays of any kind should be avoided in order to keep schedules on track and budgets under control.
The construction project manager's job also includes documenting every step of the process. Managers must reply to construction firm and contractor enquiries about project status and team assignments as soon as possible. The team's morale will improve, and possible problems will be averted as a result.
Construction project managers require assistance in collaborating with various crews. When construction projects engage more independent contractors, communication problems are expected.
Construction management software has the potential to unite the construction workforce among those with an online construction degree. This programme is used by construction project managers to track time and materials as well as manage other data.
4. Check facts and Inquire
Facts can have a significant impact on the effectiveness of a construction project's workflow in the field. There may be numerous situations when you will need to see visual evidence of an issue before you can remedy it.
Every year, new building technology, safety regulations, and best practises emerge. To improve on your project management efficiency, become familiar with the building site and the responsibilities of each subordinate professional.
A commitment to lifelong learning is required for successful project administration and management. Despite telephonic or online communication, project management requires site visits and regular dialogues among the contractors, architect, and the project manager.
5. Select a Project Delivery Method
The project owner must specify stakeholder relationships and contractor payment before employing a designer for planning.
According to studies, the success rates of traditional distribution tactics may be higher. Overruns in both cost and time may take place due to:
Typical design-bid-build methodology
Design-build
Build-own-operate-transfer, as well as
The modern IPD methodology is fast replacing the older, more traditional delivery methods. IPD is a more collaborative approach to working that integrates people, systems, business structures, and practises into a workflow that makes use of everyone's knowledge and experience.
6. Monitoring Progress and Making Changes When Managing Construction Projects.
While everyone hopes that construction project management runs smoothly, several minor issues may cause the job to be delayed. It is critical to keep track of the schedule, budget, daily progress reports, productivity, hazards, and unexpected events. By paying strict attention to every detail, you can keep the project on track.
Clients or building owners should closely supervise their projects like builders do. Any issues that emerge on the job site should be reported to them. By monitoring project progress and resolving issues as they arise, clients can save time and money.
7. Take Charge of Your Assets
The four most significant construction project management assets that must be integrated are-
 Workforce, Machines, materials, and money
Investing in staff training provides them with the confidence to complete tasks promptly and efficiently. Money management, as well as inventory and supply management, improve productivity and company health.
8 Select Your Contractor Systematically
Because of their skill, construction contractors have an impact on the finished result. As a result, selecting one is critical in construction management. If you want your building project to be a success, you must choose a trustworthy contractor.
9 It is critical to be familiar with the contract documents.
Don't just put your contract in a drawer and forget about it until your project is in jeopardy. Then you have more time to do whatever you want.
Instead, before commencing your project, you should read the entire book. As a result, your project will be completed on time and within the agreed-upon parameters, and all contractual responsibilities will be met.
Learning as much as you can about your contract documentation will help you avoid arguments and complications down the road.
10. Before managing construction projects, be sure you have insurance.
To prevent employee accidents during construction project management, many construction companies require their subcontractors to have sufficient liability insurance. However, this insurance should be only one of many safeguards in place for a contractor. When it comes to limiting the risk of litigation, all construction companies must ensure that they have enough coverage.
11. Utilise the Most Recent Management Instruments
A project manager must have prior experience in the field to ensure that the design and operational standards are met. They still have a long way to go, and this is only the halfway point.
The right equipment may increase production and ensure success in terms of both time and money. Cloud-based applications promote collaboration by making all vital information readily available. Businesses could devise a simple strategy to alleviate personnel turnover and managerial reluctance.
Final Thoughts on Construction Project Management
In order to produce good results, construction projects must be properly managed. Following best practices and methods is essential to ensuring that objectives are met and the project is completed on time and within budget. 
Building owners should determine their final aim, choose the best team for the job, encourage communication among project members, be aware of any changes in scope, and set up an organised system for tracking costs and revisions. 
Furthermore, using adequate documentation and the most recent technological improvements can help expedite operations and reduce risk concerns. In the end, following proper processes for construction endeavours will yield beneficial results.