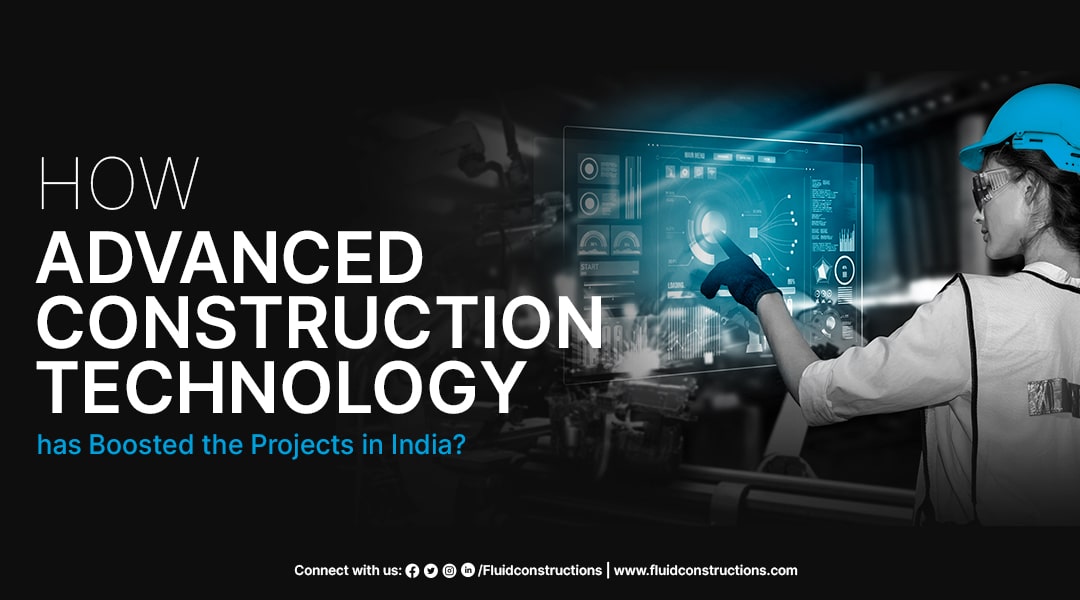 How advanced construction technology has boosted the Projects in India
Over the past few years, India has treaded a major transformational path, from being a traditional economy to a technology-based economy, which is removing many hurdles and speeding up growth using technologies. The construction and infrastructure sector has been a principal beneficiary of this new approach, witnessing the large-scale deployment of construction technology in infrastructure projects.
Construction processes involve many critical stages, which can cause delays due to localized problems. For example, projects can be delayed owing to discrepancies between early estimates and ground surveys, which result in last-minute changes. Advanced construction technology can ensure accuracy in planning using drone-aided surveying, 3D laser scanning, integrated high-definition photography, and geographic information systems.
The importance of construction technology has become paramount throughout the project cycle, making big differences in performance when it comes to exploring and analyzing data, increasing overall productivity, reducing economic impact, improving operational efficiency, and providing a safer environment for people working on the project site.
The most common technologies that are being used today in the construction industry are:
Building Information Modelling (BIM)
Internet of Things (IoT)
HD surveying and geolocation
Artificial Intelligence (AI)
Machine Learning (ML)
Virtual Reality (VR)
Augmented Reality (AR)
Enterprise Resource Planning (ERP)
These are some of the path-breaking platforms, tools & technologies that have changed the way the current construction & infrastructure industry thinks, evolves & executes projects.
3D BIM is one technology that allows project stakeholders to see a planned structure in great detail before laying a single brick. As a result, all risks can be identified in real-time, and decisions can be made more quickly. Furthermore, it is easier to share these BIM models with other team members, ensuring that everyone is up to date on the project's status.
According to Niti Aayog officials, BIM could save up to 20% of project costs by shortening construction time and could be used for housing-for-all projects, national highway construction, greenfield airport and metro projects, station redevelopment, and railway capacity augmentation programs.
IoT or the Internet of Things is another technology that helps construction supervisors and managers track the items moving to and from their sites. IoT is also immensely helpful in reducing theft at the sites.
Projects are frequently delayed due to differences in ground conditions. High-definition photography, 3-D laser scanning, geographic information systems, and other new techniques are helping with accurate data and speed of project execution.
Augmented Reality and Virtual Reality are making waves in the construction industry.  While AR is increasingly being used to superimpose a computer-generated image on a user's view of the world, VR can completely replace it with a virtual environment.
As buildings become more complex, AR and VR are assisting in the detection of design and coordination errors as well as fostering coordination among consultants, designers, and construction teams. So,
AR is also being used to communicate with clients about projects. For example, if you have a vacant site, a completed project can be overlaid on it so that the client can see the finished product.
How technology is modernizing the construction industry
The use of construction technologies enables clients, consultants, contractors, and customers involved in the project to visualize, create optimal systems and processes, and experience the entire project during the design, conception, and realization stages.
They are poised to become key drivers in project cost optimization, risk mitigation during execution, and decision-making for clients prior to investing in large-scale ventures and projects.
Effective communication is essential for the successful completion of any project, and construction projects are no exception. Modern construction projects are highly fragmented with different teams and locations, having little or no synchronization between their tasks and operations. Cloud-based collaboration solutions present an excellent bridging of this gap.
According to a survey, most of the construction companies reported increasing complexity in their projects due to widely dispersed participants and stakeholders gearing up to use cloud technology for their processes.
Because of technology, the construction and infrastructure sectors are building safer, stronger, and more energy-efficient structures, with many modern solutions boosting levels of innovation.
How advanced construction equipment and techniques are redefining the construction process
For better data sharing and collaboration, leading construction companies are also utilizing digital collaboration and field mobility solutions. These cloud-based collaborative platforms enable complete project planning, documentation, and budgeting integration.
With the help of such tools, entire workflows can be efficiently digitized, giving every stakeholder access to the same information, and making project coordination smoother and error-free.
Furthermore, embedded and Internet-connected sensors on all construction equipment and human assets, including hard hats worn by construction workers, transmit real-time data to these digital collaboration tools, allowing companies to optimize equipment and manpower management.
Aside from 3D modeling, aluminum formworks, tunnel formworks, and jump forms are gradually spreading throughout the industry.
Alu-form is an abbreviation for aluminum formwork, a technique in which metal is used instead of traditional plywood shuttering to create the mold or framework for the construction of the outer walls, floors, and ceilings. Aluminum is more durable, easier to work with, and provides a better finish, especially on exterior walls.