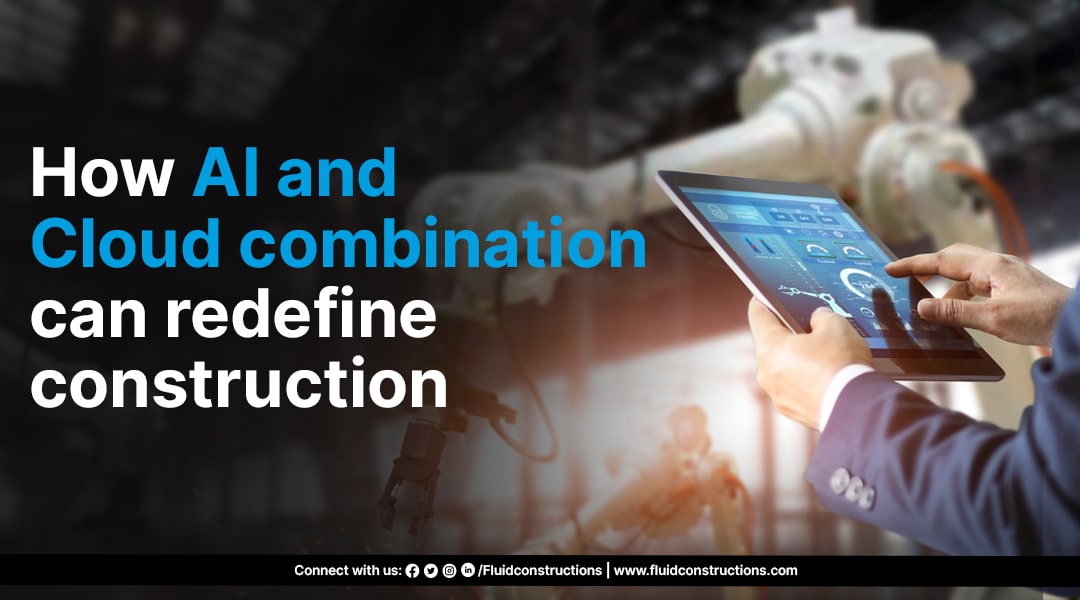 How AI and Cloud combination can redefine construction
Competitiveness or the ability to provide better value at a lower cost is the most important factor in any business. Hence, adopting the right and up-to-date technology is the only way to gain a competitive advantage. Construction projects, with their capital-intensive and labor-intensive nature along with higher dependence on logistics and inventory management, can do significantly well with cutting-edge technologies.
The two most impactful technologies of today
AI technology and cloud computing are revolutionizing the way businesses operate, allowing organizations to function more efficiently, be more strategic, and gain more insight. While artificial intelligence makes it easier to manage data, analytics & insights, improve customer experience, and optimize workflows, the cloud offers greater flexibility, agility, and cost savings.
Blending of AI and Cloud technology holds the key
Combining cloud technology with AI is a powerful new method of the modern world's business and commerce to drive home crucial advantages, such as:
Cost-effectiveness
Enhanced data management
Accelerated productivity
Intelligent automation
Deeper actionable insights
Increased security
Reliability
So, no wonder that the construction industry can avail the same benefits by leveraging these two technologies.
Why integration of data, access to data, and real-time collaboration are so important in construction.
The construction industry is data intensive as heterogeneous data is continuously generated as the project progresses. The data from different stages of the project is usually stored in silos; team servers, desktops, laptops, smartphones, etc. 
Data integration and real-time access of data remotely on different gadgets are therefore the primary requirements for the overall project coordination because –
Collaboration between the stakeholders located at different places helps to cut delays. 
Access to a holistic view of data often helps in making the right decisions.
While AI improves the efficacy and management of data, Cloud technology ensures real-time collaboration and access to data
The incorporation of artificial intelligence into data management systems improves database query accuracy and performance while conserving system resources. Cloud technology ensures access and distribution of the refined data as and when required besides collaborations between and among different groups. 
In the construction industry scenario, as there can be a large variety and amount of data, AI tools may come in very handy for staying organized. It also assists enterprises in streamlining data to ingest, update, and manage finances in real time, as well as identifying malicious activities and potential risks.
The drawbacks of the traditional method
The conventional Information and Communication Technologies (ICT) solution requires a high-capacity IT infrastructure to store, process, and analyze data from its subcontractors. Deploying this type of on-site solution necessitates significant overheads (power, cooling, security, availability, and updates), as well as a significant operational cost burden. 
Furthermore, in-house computing provision has a fixed capability and is typically more expensive to upgrade to meet a sudden increase in computing needs. The construction industry is made up of roughly 90% of small and medium-sized enterprises (SMEs) and they cannot afford to invest heavily in cutting-edge ICT infrastructure, which is required to benefit from current digital innovations. As a result, the construction industry is one of the least digitalized.
Advantages of Cloud computing in the construction industry
#1. Cloud computing technology uses a pay-as-you-go pricing model to provide affordable and scalable computing facilities. As a result, cloud computing functionality is appropriate for the SME  because cloud computing eliminates the cost of acquiring, installing, and maintaining computing facilities, which have been a significant impediment to the adoption of ICT in the construction industry.
#2. Cloud computing enables innovation delivery of other emerging construction technologies such as Building Information Modeling, the Internet of Things, Virtual reality, Augmented reality, and Big Data Analytics.
#3. Cloud computing is amazingly flexible. It helps a business with five outstanding features 
On-demand self-service
Broad network access
Resource pooling 
Rapid elasticity and 
Payment as per the use 
On-demand self-service
On-demand self-service refers to the automatic provision of computing capabilities to users. In traditional methods, users needed to order computing facilities, wait for them to arrive, and then install them to prepare the system for use. It would take at least 24 hours for the system to be fully operational.
But to get a cloud service, client businesses only need to enter credit card information on the website of cloud providers before computer resources are made available to them for use. Without assistance from the cloud provider, cloud users can manage their services using the web service portal.
Broad network access
Cloud computing's ubiquitous nature implies broad network access since cloud services are accessible throughout the world at any time and from anywhere. In addition, since the computing infrastructure is distributed across multiple locations all devices can access the service via the internet. 
Resource pooling
The shared pool feature implies a multi-tenancy infrastructure capable of supporting a large number of users and applications. This allows multiple users to share the same computing infrastructure while maintaining individual privacy and security.
Rapid elasticity
The elasticity attribute enables users to adjust their request for computing resources on the fly. For example, if a company suddenly experiences a surge in traffic, cloud infrastructure can easily scale up to meet the increased demand.
Pay-as-you-go
The cloud services that users avail of are fully measured and allow them to pay based on their usage. The use of cloud resources is metered in the same way that electricity and water utilities are. Users receive a bill for their exact usage at the end of the month and pay accordingly.
#4. Cloud computing can provide three types of service models 
Software as a Service(SaaS), 
Platform as a Service(PaaS), and 
Infrastructure as a Service(IaaS). 
While PaaS is mainly useful for software developers, SaaS and IaaS are more relevant for use in the construction industry. IaaS allows businesses to purchase IT resources on-demand and as-needed instead of investing a heavy amount into having on-site infrastructure.
SaaS in the construction industry refers to cloud-based construction software that can be purchased for use on a pay-as-you-go basis and thus provides a reduced cost of ownership. There are plenty of SaaS products for the construction industry to address the specific needs, such as:
Project management
Accounting
Health and Safety
BIM design
Customer relationships management (CRM)
Email marketing
Logistics
Quality control
AI SaaS integration provides more functionality and value to construction companies in the areas of customer service, personalization, and security. The combination enables businesses to track consumer behavior and demand, thus providing personalized services.
Final word
Similar to other industries, AI and cloud computing combination can boost the performance and profitability in construction. From deep learning to automation of key processes, there are numerous ways the construction industry can benefit from AI-powered cloud computing. The onus is on the leaders of the construction industry to adopt them fast and make a cascading effect down the order.