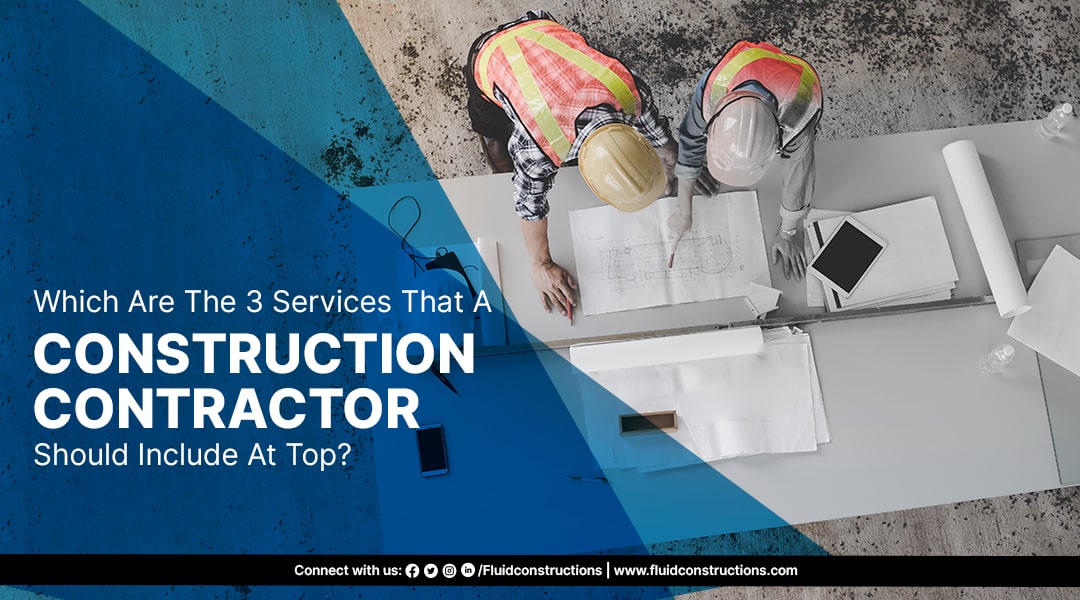 Which are the 3 Services that a construction contractor should include at the top?
If you are in the construction business and are working on a large construction or renovation project, you need to take care of a lot of things in order to ensure the success of your construction project. Selecting a suitable sub-contractor is one of them. 
We at Fluidscapes Construction have earned a high reputation through successfully managing complex construction projects. Our rich experience in a variety of construction services enables us to see a project through to completion while keeping clients informed and assured. Here is our thought as to what it takes to complete a construction project successfully.
Emphasize clear communication with your contractor.
You must first ensure that the construction contractor selected by you is communicating clearly with you. The first step in effective communication is to negotiate a clearly worded contract. During contract negotiations, you must specify exactly what you want. Also, the contract must spell out the requirements from both sides. It establishes ground rules for both parties. Furthermore, it must underline the obligations, risks, and agreements.
Communication between the contractor and the client also ensures speed of work and flexibility to meet emergencies. If an unexpected event requires a sudden change in schedule, open communication can help both workers and clients adjust accordingly.
Put together a well-planned strategy
Both in new construction and renovation projects, the planning phase is one of the most important steps in ensuring success. Without knowing exactly what you need before work begins, you'll not be able to determine if your needs have been met after the completion of the project. 
Therefore, give your planning ample time and deliberation to fulfill your construction project expectations. 
You should apply a variety of techniques in your planning to ensure that the design and options work for both you and the client. Your strategy should be based on three main components: a budget, a design, and a timeline:
Project Budget
Budget is the most critical factor in awarding a project to a construction contractor. Make a firm budget for the work based on independent cost estimates. You can reduce surprises in final bids and cost overruns during construction by knowing how much contractors would normally charge for the job you want done.
For bids that are too high or too low, use a percentage of your budget as a metric. For example, you don't want to spend more than 20% of your project budget. Take in bids from various contractors. If none of the costs are less than 120% of the budgeted amount, you should return to the design phase to see what you can delete or change to reduce the construction team's costs.
Another way to incorporate your budget into the bidding process is to use alternatives that you can add or remove based on the work bids. For example, if bids are too low, you may decide to add items to improve the project. However, if a bid is too high, you can remove some non-essential items to reduce the total cost without going back to the design phase.
Construction Design
The design phase is also critical to the success of your project. Designers must consider whether historic preservation or maintaining a theme or style for your space is required. You must also consider the construction team's ability to complete the task.
Having an independent designer or engineer review your design is one way to ensure it is both practical and adaptable. This can help you avoid going over budget or encountering unexpected problems.
Work Schedule
The work schedule must be included in your strategy. To avoid problems, do not set a deadline for the work that is too short. Work with the construction contractor to find a time that will cause the least amount of disruption to your business while also maximizing their efficiency. To avoid project delays, remember to provide contractors with site access, especially if they will be working after hours.
Keep a close eye on details
Look for a contractor who pays close attention to detail. Indications of such a construction provider includes a resume that involves tasks like performing updates to historic properties, using optimal safety measures, working successfully on difficult renovations and providing property improvements for years.
Fluidscapes Construction meets this criteria, which explains why so many businesses rely on and recommend us. We prioritize our clients in all aspects of our work, including paying close attention to detail because we use precision and care. We are always up for challenges and also take on the most difficult renovation projects that most may shy away from.
Clearly communicate the cost
To ensure that the construction project stays within budget and does not go over budget, you need a company that will provide upfront, low-risk estimates.
Our low-risk estimation reduces project change orders. For our competitive bids, we begin by developing detailed control estimates. These estimates allow for adjustments as the design process progresses. Control estimates broaden the scope of line-item budgets in order to minimize surprises and maximize accuracy.
Select specialists for certain types of  projects
Choosing a company that will respect your business's operations is a major consideration, particularly in the hospitality industry. As a result, if construction must be done during operating hours, the company will do everything possible to minimize disruption to you and your guests or customers.
The customer experience is critical for businesses such as hotels and restaurants. As a result, you must select a construction company that understands this requirement.