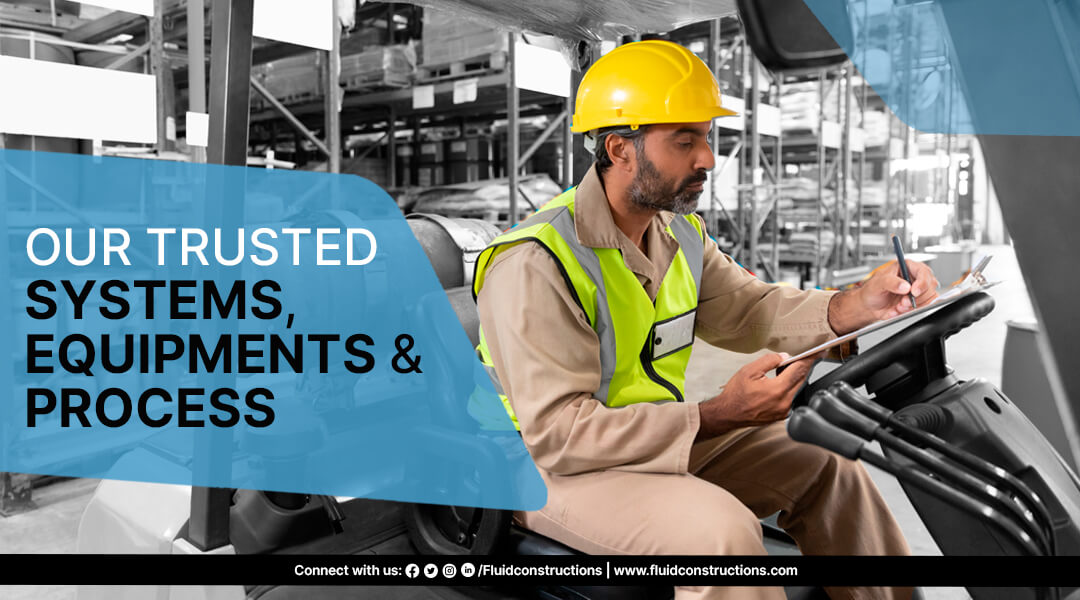 Our Trusted Systems, Equipments and Process – Fluidconstructions
Construction equipment rental can be a great way to keep your construction project running smoothly with the right tools and equipment. Here, in this blog, we will see how FluidConstruction as a construction company is a trusted system with its process and equipment.
By being a construction equipment company, FluidConstruction allows you to cut costs by not purchasing the most expensive equipment, and it also gives you the flexibility to change machinery at a moment when it notices that something is going wrong. However, choosing the right equipment rental company is no easy feat. You need to find one that offers great service, has a variety of machinery to choose from, and most importantly – is a reliable company. If you're going to rent construction machinery, make sure that you choose a company with a solid reputation and stellar customer service ratings. As a result, you will be able to avoid any future problems. It can be difficult when beginning a construction project to know where your machinery is located, who can call on it when necessary, and how much it will cost upfront until it has been used during your build. Fortunately, we've done all of that under one roof by being a one-of-its-kind construction company. FluidConstructions is proud to be engaged in this expansive urbanization campaign of the country since 2011, having gained a high reputation over the years in all areas of construction. Our victories can be attributed to our deep expertise, well-coordinated team efforts, use of technology, and a fleet of advanced equipment.
We are a leading business to government (B2G) service provider. We embark on a variety of construction works that includes hospitals, road and infrastructure, gateways, gardens, pipe laying, and other civic amenity projects.
We have been involved in the construction sector for over a decade now. We have built up a strong team of highly skilled engineers who can help you choose the right materials to ensure that your projects are completed on time and within budget.
Our Process: 
Our company has an excellent trial history of delivering high-quality workmanship at very low prices. Our services include Excavation, Road Developers, and Civil Construction.
In the excavation segment, the FluidConstructions team uses its incomparable skill and knowledge of the project requirements to work considerably with the Design engineers. We embark on the entire gamut of earthwork projects, whether on land or in water, such as Demolition Services, Deep Excavation, Large Earthworks, Land Grading, Soil Levelling, Rock Breaking, Backfilling, Piling, Shoring Dewatering.
Civil construction has forever been special to us as our route initiated with construction way back in 2011. Along with superior earth excavation and road infrastructure projects, we have maintained an independent team to cater to various types of construction and landscape development projects.
Our expertise in construction derived from the famous Orange City Water Works project that eliminated the water despair of Nagpur through infrastructural advancements and the replacement of numerous parts of an age-old water dispersal system.
We are proud of our ongoing association with the Nagpur Municipal Corporation through this massive project that covers 3000 Km of pipeline network and water connections to 450000 households from five water treatment plants with an integrated capacity of 750 MLD. The other civil constructions include the construction of Commercial & Govt. Buildings, Industrial Structures, Hospitals, Gardens, Gates, Bridges. 
Our Equipment:
In the Road Development segment, our expertise in earth movement and civil construction provides us with an edge in the construction of roads and infrastructure. These include Pavement Milling, Soil Stabilization, Ready Mix Concrete, Hot Mix Asphalt, Aggregate, and many other technologies.
While we talk about our equipment, let's see what these equipments are used for.
Pavement Milling: The process of milling paved surfaces, such as roads, bridges, or parking lots, involves the removal of at least part of the surface. There is a wide range of thicknesses that can be milled, from just enough to level and smooth out surfaces to total depth removal.
Soil Stabilization: The term soil stabilization refers to any physical, chemical, mechanical, biological, or combined method of modifying a natural soil for the purpose of engineering.
Ready Mix Concrete: Concrete that has been manufactured specifically for a customer's construction project and supplied on-site as a single product is known as ready-mix concrete. A concrete mix consists of cement, water, and aggregates: sand, gravel, or crushed stone.
Hot Mix Asphalt: The term hot mix asphalt (HMA) refers to a mixture of aggregate that has been uniformly mixed with asphalt cement and coated with it. As it is necessary to dry the aggregates and obtain sufficient fluidity for proper mixing and workability of asphalt cement, both the aggregate and asphalt must be heated prior to mixing.
Aggregate: Sand, gravel, crushed stone, slag, recycled concrete, and geosynthetic aggregates are all examples of aggregates, which are coarse to medium-grained particles used in construction.
Our Projects:
Being in the construction segment, we have many projects in our portfolio. The important ones include:
Sub center hospital of NRHM (Zillaparishad) at Village- Digori Tehsil- KAMPTEE District- Nagpur
Nagpur's main railway station work includes entrance gate work, building work, garden work, and road work.
NRHM (Zillaparishad building) in Mowad and Jalalkheda, Tehsil- Narkhed District – Nagpur.
Working with Orange City Water Work Pvt Ltd (Project for Nagpur municipal corporation)​.
Conclusion:
To provide a better customer experience, work with greater speed, and get the job done faster, a construction company needs to be able to partner with and effectively leverage other construction companies within the same B2G environment. To this end, we have developed an ecosystem of construction and infrastructure-led projects which will allow us to provide our clients with maximum value – be it through leveraging available resources, increasing transparency, and delivering new services.