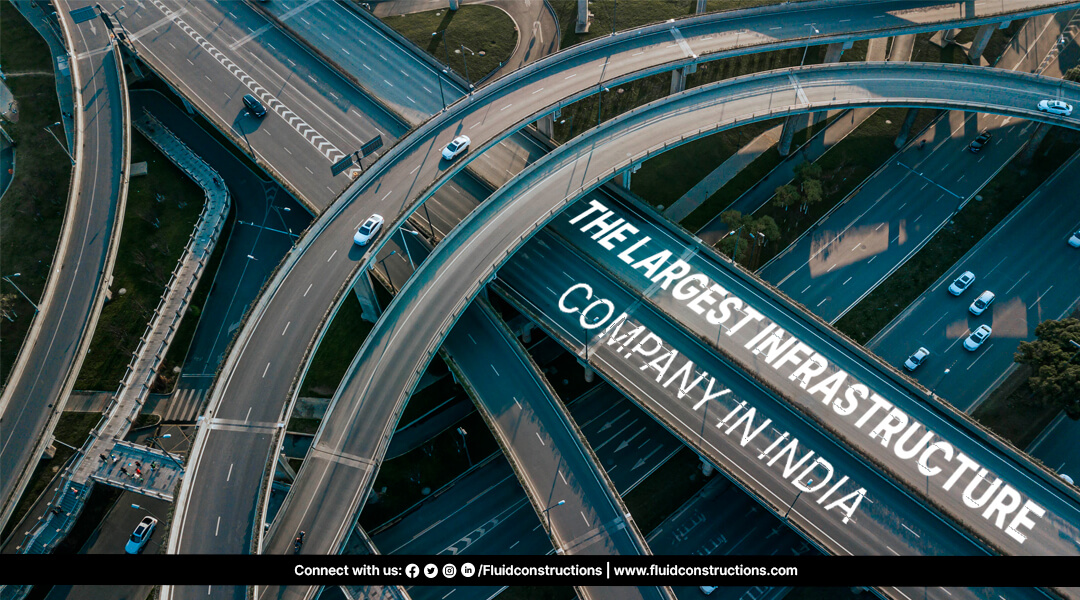 The Largest Infrastructure Company in India
Good infrastructure ushers in sustainable growth. The Road Transport and Highways Ministry is doing a commendable job in delivering high-quality infrastructure across the country by roping in the leading infrastructure companies in India. L&T, the giant infrastructure company headquartered in Mumbai, is leading from the front with its monumental experience and expertise.
L&T Construction, India's largest infrastructure company and ranked among the world's top 30 construction majors, has over the past seven decades redefined cityscapes and landscapes with numerous structures of massive size and grandeur. The following list of industrial and civil infrastructure projects completed by L&T reveals it might as a leading infrastructure company: 
11 International Airports
• 400+ High Rise Towers
• 40 Institutions & Public Spaces
• 70000+ Apartment Units
• 85+ Manufacturing Facilities
• 22000+ Hospital Beds
• 5 lakh + km of Water & Waste Water Networks
• 7200 MLD of Water & Waste Water Treatment Plants
• 7.3 lakh Hectares of Land Being Irrigated
• 805 Substations • 36900 ckm of Transmission Lines
• 1.5 lakh+ km of Distribution Lines
• 156263 Habitations Electrified
• 120 Towns Power Quality Enhanced
• 2.5+ GW Portfolio of Solar Plants
• 344 km of Metro Rail Corridors
• 19.5 km of Monorail Corridors
• 22600 Lane km of Highways
• 12.08 million sq. m. of Runways
• 8315 MW of Hydro Power Projects
• 8080 MW of Nuclear Power Projects
• 5075 km of Railway Track Laying
• 17906 km of Railway Electrification
• 245 Signaling & Telecom Installation in Stations
courtesy: L&T website
In the face of the global recession triggered by the pandemic and war, the Indian economy has shown considerable resilience and also is predicted to be the best performer in the current financial year. Most of the credit for this goes to a stellar performance by the infrastructure companies, which caused a surge in domestic consumption in India.
A new India is in the making, which will have top-class infrastructure across its length and breadth,  for which a solid foundation has already been laid with over 17 Lakh Crore worth of infrastructure projects finished in the last five years, according to a source. India's mission to become a manufacturing powerhouse and an export-driven economy reinstates the government's focus on infrastructure development.
Why infrastructure development matters most in the economic growth of a country.
A country's development is heavily reliant on the availability of its infrastructure. Agriculture and industry development are entirely dependent on infrastructure. A country's economy cannot develop without a solid infrastructure foundation. The provision of basic infrastructural facilities is a more important and difficult task in the country's development process. Here are some bullet points about the importance of infrastructure in a country:
Inclusive growth: It should be emphasized that good infrastructure is not only necessary for faster economic growth but also for inclusive growth. Poverty will be alleviated and income disparities will be reduced in the country as a result of inclusive growth. 
Facilitates high industrial GDP: Micro, small, and medium-sized enterprises (MSME) are widely dispersed throughout the economy, and their production and growth require access to high-quality, dependable infrastructure services in order to compete effectively with large-scale enterprises.
Help to grow industry ecosystem: Many micro, small, and medium-sized enterprises (MSMEs) build some of their own infrastructure, such as small power plants or generators. Furthermore, large-scale businesses may locate near ports and transportation hubs where the required infrastructure is available.
Agricultural development: The expansion of infrastructure facilities such as irrigation, rural electrification, highways, and road transport would support agricultural growth and the establishment of agro-processing enterprises.
What are the different types of infrastructure?
Infrastructure has a large spectrum that covers all facilities a country can provide to encourage growth in industry, agriculture, and trade, and improve the lives of its citizens. Below are the 9 main types of infrastructure:
Aviation
Telecom
Railways
Power station,
Oil excavation, refinery, and distribution
What are infrastructure construction projects?
Infrastructure projects are concerned with the creation and upkeep of services, facilities, and systems. These can be funded privately, publicly, or through a public-private partnership (a collaboration of government entities and private sector companies). Private investments can aid in the management of a city's, state's, or country's economic development.
Here are the top 10 infrastructure projects in 2022 in India, which are underway and will take the Indian economy to a new height when finished:
World's First Motorable Road Through the Glaciers HIMANK. …
Chenab Rail Bridge. …
Mumbai to Delhi Expressway. …
Mumbai Trans Harbor Link Project (Sewri – Nhava Sheva Sea Link Project ) …
Central Vista Redevelopment Project.
Supernova Spira, India's tallest residential project
Navi Mumbai International Airport
Bharatmala Pariyojana program
Sagarmala project
Ken Betwa River link project.