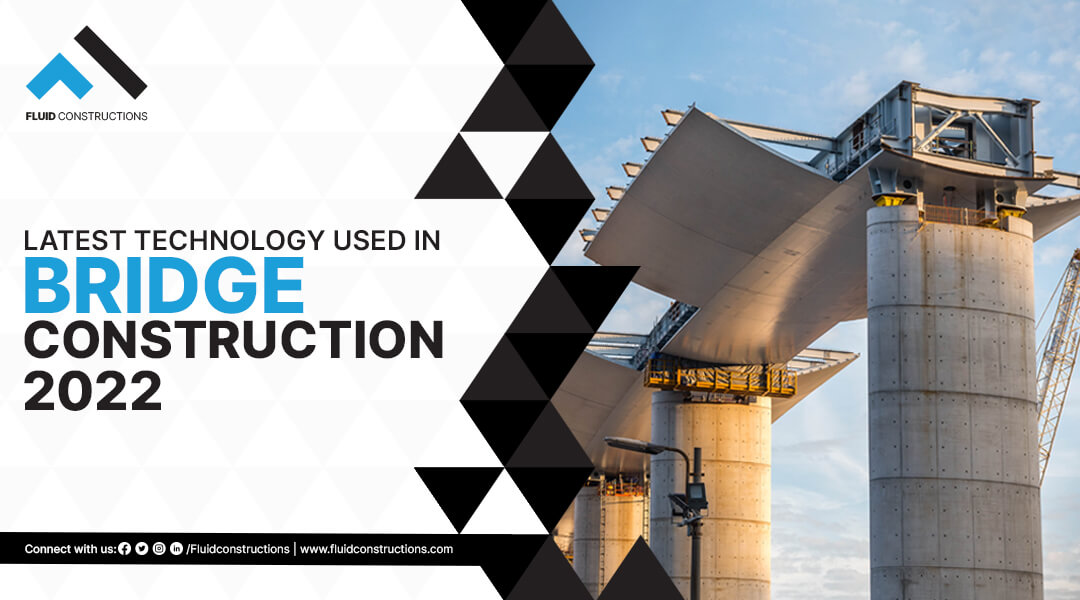 Latest Technology used in bridge construction 2023
As the world is evolving and changing, so are the trends and technologies. As the world becomes a better place, it is becoming smarter too. 
Things are rapidly changing in education, healthcare, commerce, finance, housing, maritime industries, and even art and culture vigorously support digitalization, data-driven products, and other finest innovations.
When we talk and discuss technological innovations, industries like IT, computers, and software usually take the tide and lead the way. However, many game-changing advancements are taking place in the construction industry, be it bridge construction or highways and road construction.

In this blog, we will read uses of new construction technology in 2023 and a few latest technologies and innovations used in bridge construction in 2023:
Building Information Modelling (BIM):
BIM is a method for developing and organizing information on a construction project throughout its entire lifecycle. As part of this strategy, a coordinated digital description of every part of the built asset is developed, using a set of relevant technology.
BIM is similar to CAD (Computer-Aided Design) but not identical. It is software for 3D design to model what will be created digitally. BIM is one of the highest-trending construction technology in 2023.
BIM also assists with problem-solving in a project's design and strategy stages by automating conflict detection and delivering a complete sight of the project. 
Cloud And Mobile Technology:
Messages and social media are no longer the only uses for mobile technology. The improved portability of smartphones and tablets has allowed for more excellent transmission and the ability to operate from anywhere in the world.

The incorporation of cloud and mobile technology into the construction business can be much easier and simpler. Companies can efficiently access the latest modifications to plans or report a concern to the project manager off-site.

One of the most promising construction technologies in civil engineering and bridge construction after BIM is cloud and mobile technology.
Virtual Reality:
Virtual reality (VR) technology is usually used in intersections with BIM to help better comprehend complex projects of Bridge Construction or Road Construction.

For example, one can construct a building design with BIM and then utilize VR to actually walk around it. Pretty cool, right? VR and BIM also go hand in hand with the technology in constructing bridges and roads.

One of the most promising and emerging trends in the construction of bridges and civil engineering is VR. Having a thorough grasp of the project before it commences allows a person to avoid significant differences and expensive change demands mid-way through. Once completed, this will give the team or the customer an even more realistic idea of the project.
Augmented Reality:
The construction industry is witnessing a rapid adoption of Augmented Reality (AR), which overlays computer-generated images on a live view on a device's screen.

AR applications use features, such as QR codes, architectural drawings, or geolocation to overlay BIM models, installation and safety instructions, and more.

The presentation of BIM data through an AR visual platform can foster coordination and collaboration between consultants, designers, and construction teams of a Bridge or road.
3D Printing:
3D Printing as a construction technology has the prospect of transforming material sourcing. Ready-made materials for a project can be printed and then carted to the job site, ready for use instantly.

This can allow companies to get materials quicker and simplify the process by withdrawing extra steps in the middle. 3D printing will even be feasible to print materials right on-site, save transportation, and reduce waste, and storage costs.
Artificial Intelligence (AI):
The construction and construction equipment industry has already witnessed the implementation of Artificial Intelligence (AI).

Incorporating AI on the job site, using robotics for tasks like bricklaying and self-sufficient equipment that can perform and complete tasks without human interaction. AI is one of the best-emerging trends in road construction and equipment used in bridge construction.

AI can benefit construction projects of bridges, buildings, and roads through improved safety, enhancing workflows, and acquiring jobs done swiftly and better. It can also recognize when data or details are missing, ask queries, and use the data it collects.
Robotics:
Robots emerged in the construction industry long ago, but it is only gaining popularity in India currently. Earlier when robots were introduced, they were meant to ease the work.

In the current scenario, robotics are helping to reduce the process and replace manual work in each industry. From independent rovers that can improve and boost the efficiency and detail of site reviews to mechanical arms that automate positively repetitive tasks, the robotic revolution looks set to gather a significant pace in 2022 in India. 
Autonomous Vehicles:
While autonomous vehicles keep making headlines in the consumer sector, their adoption in the bridge and road construction sector seems set to take significant strides forward in 2023.

For those unknown to this term, autonomous vehicles consist of bulldozers, excavators, and haul trucks which are used for excavating and grading soil on construction sites.

With robotics, AI, VR, and AR, the automation of construction bridges particularly concerning highly duplicative tasks – could significantly enhance productivity while creating a safer work atmosphere and help to manage the industry's shortfall in labor.

Along with Robotics, the autonomous vehicle can also be counted and vouched for in the construction sector.
Advanced Materials:
With all the talk about a sustainable environment and keeping the earth safe by not wasting too much in the food and plastic sector, the same talk goes on with the construction industry.

Technological advancements are bringing enormous and new material inventions to the fore. Recent developments have witnessed the incorporation of waste plastic into highways, and bridges, and even its use as a material for 3D printing new building components or structures.

Dealing with one of the construction's advances in bridge engineering being the most popular materials, "self-healing concrete" is combined with calcite-precipitating bacteria. These bacteria develop when water takes the plunge into cracks in decaying concrete, filling the emerging air gaps.

These are the most advanced techniques for bridge construction and take a long way ahead for the future of bridges. 
Advance Uses Of GPS:
Today, every vehicle is equipped and automated with a trackable device via computers and smartphones. Managers at construction sites are also using GPS in bridge construction equipment and in the construction of roads.

This technology lets everyone at the construction site know where the construction equipment is located or working and which equipment is used for different construction sites.
It's more manageable and effortless to find lost or stolen construction equipment. With the automated GPS, managers can now generate maps that pinpoint the exact location of any of these items.

GPS in the construction sector has eased the work of surveys and has been improved because humans are no longer required to use old methods of surveying equipment. All the data for forthcoming project locations can be swiftly and accurately collected.
Conclusion:
Certainly,  2023 is predicted and expected to be a breakthrough year for the construction industry be it road construction, highway construction, or bridge construction.

The application of new technology in the construction equipment sector can change the pattern and practices that the companies design and plan their projects, supervise work on the ground, and many more things in and around the construction sector.

Construction team members and participants are hoping for a data-driven sector with a focus on collaboration and real-time communication is around the corner.

The bridge construction technology is underneath a powerful paradigm shift. The specialists believe that we can anticipate noticing the most significant trends and technologies in the construction sector in the coming years.