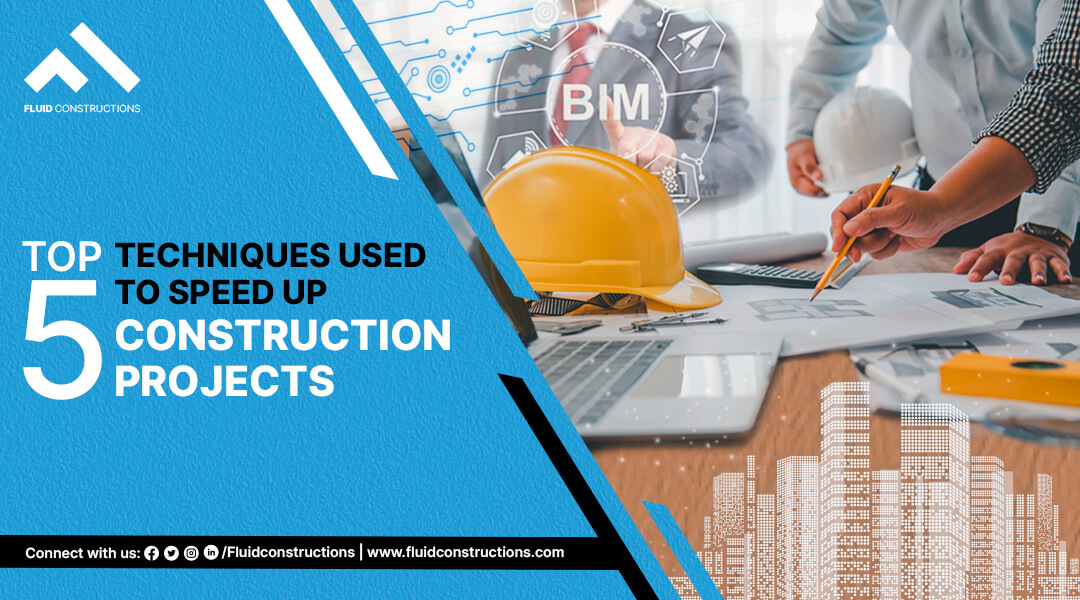 Top 5 Techniques Used to Speed up a Construction Project
A construction project, especially a large government or commercial site, is like a huge and complex machine by itself. So many stages, so many tasks, so many factors, so many techniques & technologies, and so many decision-making are involved from beginning to end that you never know when and how delays will creep in to slow down your project completion.
The result of such delays can snowball into big problems, such as lost earnings and cost overruns, compromise in construction quality, disputes between contractors and buyers, and a slew of court battles.
While some factors for delay may be beyond your control, there are some new methodologies that can help you plug many loopholes and speed up the construction process. Here are the 5 leading ways to improve construction efficiency that are followed in most modern construction sites to cut down delays through effective construction management:
1. Implement BIM (Building Information Modeling)
BIM is the latest advancement in construction management that links people, technology, and processes in designing, building, and operating a building. BIM puts in place a collaborative methodology by sharing a single coherent system of 3D models of design across all departments. This helps in speeding up inter-departmental processes and streamlining them to achieve qualitative improvement and cost control for the project.
BIM is more than a 3D model or a collection of software. It includes not only the model parts but also the massive amounts of data that make up the project, as well as the process of communicating that data with other stakeholders. This explains how to improve construction knowledge and disseminate it in successful construction projects.
BIM workflows provide a much more dynamic and synchronized approach to project management than earlier workflows, which relied on different file formats and separate procedures that quickly got out of sync as modifications were made.
2. Use Tilt-up construction to build walls on site
The tilt-up construction method is revolutionizing the construction of high-rise buildings. The outer walls of a building are formed by a sequence of pre-constructed concrete panels tilted up into places. The panels, hoisted by a crane, are fitted horizontally on the floors at the job site. 
The Tilt-up walls and frameworks are delivered by manufacturers to the sites for most commercial construction projects. They take a long time to come to the site and also require extra assembly procedures to finish. This is one of the most time-consuming areas of commercial construction, and it should be your first priority if you want to shorten your project's timeframe.
You can reduce the project duration by building Tilt-up walls on site. The tilt-up approach generally entails obtaining wall materials locally, eliminating the need to wait for them to be delivered.  Wood forms, rebar, and concrete are used to make these walls. Concrete is poured into the frames made of wood forms and rebar. 
3. Have a dependable last-mile delivery system
You can't always avoid getting necessary items from far away places. By hiring a last-mile delivery service, you can expedite the process.
A professional delivery service actually saves you additional shipping costs and also takes significantly less time to deliver all of your items to the project site. If you count common delivery obstacles, such as urban traffic, materials transporting temperature, poor tracking system, etc. having a dependable last-mile delivery service paves the way for successful construction project management by reducing delays.
They have customized trucks that can transport large loads of cargo while maintaining the essential temperature ranges.
They also provide useful apps that allow you to track your delivery in real-time and ensure that there are no shortages or problems. The final leg of material delivery takes the longest, so taking steps to avoid delays here can ensure that your project is completed sooner.
4. Use of Insulated Concrete Forms (ICF)
Another technique to reduce the time frame of commercial building projects is to use ICF construction for the foundation and walls. ICFs are polystyrene foam cubes with enough room between them to pour concrete.
ICFs have traditionally been used for foundation walls, but many builders are also using them for above-grade walls. This way of constructing a building's foundation and walls is not only the most durable, but it is also considerably faster than the traditional method of employing a wooden framework.
Because the blocks are lightweight, your workforce will be able to perform more work in less time. When used in conjunction with the tilt-up approach, you can drastically reduce the time it takes to complete your job.
5. Use easy-to-install sidings
Siding is a sort of protective material that is used to cover the outside of a building or home's walls. Siding, also known as wall cladding, is used to protect, clad, or cover a house or building's exterior walls.
Metal, asphalt, cement, vinyl, aluminum, steel, and wood are just a few of the materials that can be utilized to build home siding. Some siding is more difficult to install than others. 
Installing fiber cement siding, for example, takes more effort and time than installing steel lap siding. Steel lap siding is simple to install on your building's walls and requires little additional upkeep after it's done. Steel lap siding is a great option if you're searching for a siding that can be installed quickly.
Good Bye
These were our best picks, for now, to introduce professional construction management to help speed up your project. However, as technology progresses, new innovations keep coming up to further enhance the quality, efficiency, and speed of construction projects. We wish to present you updates from time to time through new articles.