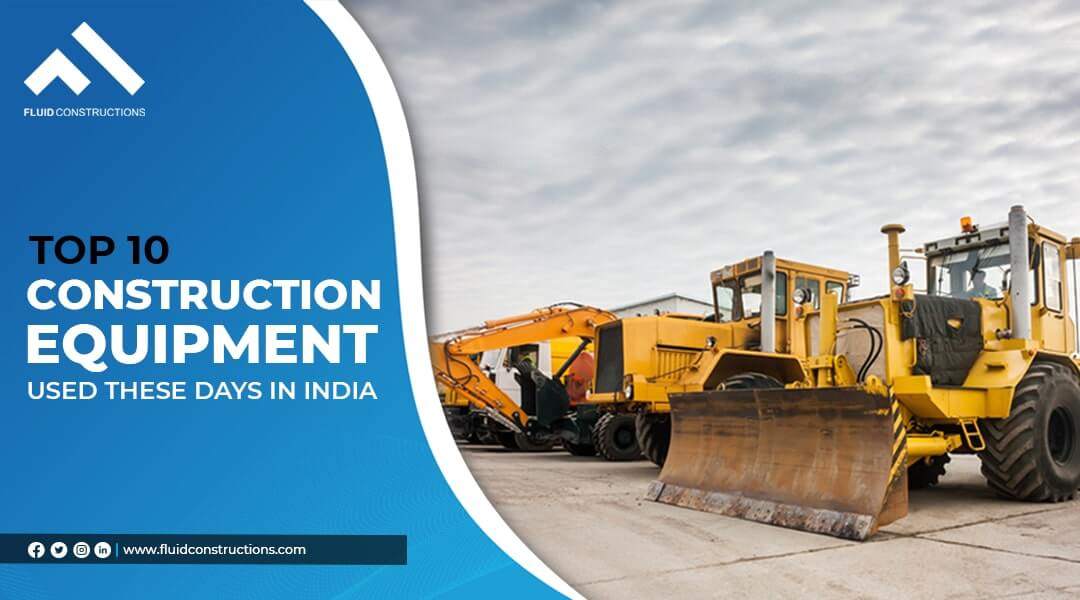 Top 10 Construction Equipment Used These Days in India
Construction equipment are familiar sight these days that gives you a sense of developmental activities all around. They belong to the range of heavy machinery used in housing, roads, and other types of construction work.
The basic activities performed in a construction site include:
Excavation of earth
Loading and unloading of earth and other materials
Placement, compacting, leveling, dozing, grading, hauling, etc.
Moving earth and other materials from one location to another
Transporting materials and tools into and out of the site.
Mixing and churning of RCC
Concrete piling,
Cutting trees or other vegetation
Accordingly, the construction equipment that is deployed to perform the various activities in a site can be categorized into:
Earthmoving Equipment
Construction Vehicles
Material Handling Equipment
Other Construction Equipment
Given below are our 10 most used construction equipment in India that belong to all of the above groups.
Excavators
Excavators are among the most used heavy equipment commonly found at all types of construction sites.
This is an earth-moving vehicle with features like buckets, arms, rotating cabs, and movable tracks. These components give this heavy equipment more digging strength and mobility, allowing it to do everything from digging trenches and breaking holes to hauling rubbish and excavating mines.
Backhoe
A backhoe, also known as a rear actor or back actor, is another type of excavating equipment that consists of a digging bucket attached to the end of a two-part articulated arm. It's usually attached to the back of a tractor or front loader, making a "backhoe loader."
Graders
Graders, also called road graders or motor graders, are large construction machines used to level the ground for road building. They can also remove and push topsoil or snow in the same way as dozers can.
Road Rollers
Road rollers are also known as compactors. These machines are used to compact material or the ground by pressing and compacting it.
The type of compactor you'll need will be determined by the nature of the job. If you work with rubbish, a landfill compactor is ideal. A soil compactor, on the other hand, is perfect for working with soil and dirt.
Cranes
A crane is a machine that can lift and lower goods as well as move them horizontally. It is usually equipped with a hoist rope, wire ropes or chains, and sheaves. It is mostly used to lift heavy objects and carry them to different locations.
Concrete mixer
A concrete mixer (also known as a cement mixer) is a machine that mixes cement, aggregate (such as sand or gravel), and water in a uniform manner to make concrete.
A spinning drum is used to mix the components in a standard concrete mixer. Portable concrete mixers are frequently used to create concrete on the construction site for smaller volume projects, providing workers plenty of time to use the concrete before it hardens.
Using perfect equipment with skilled operators ensures precision work in a construction site with improved values.