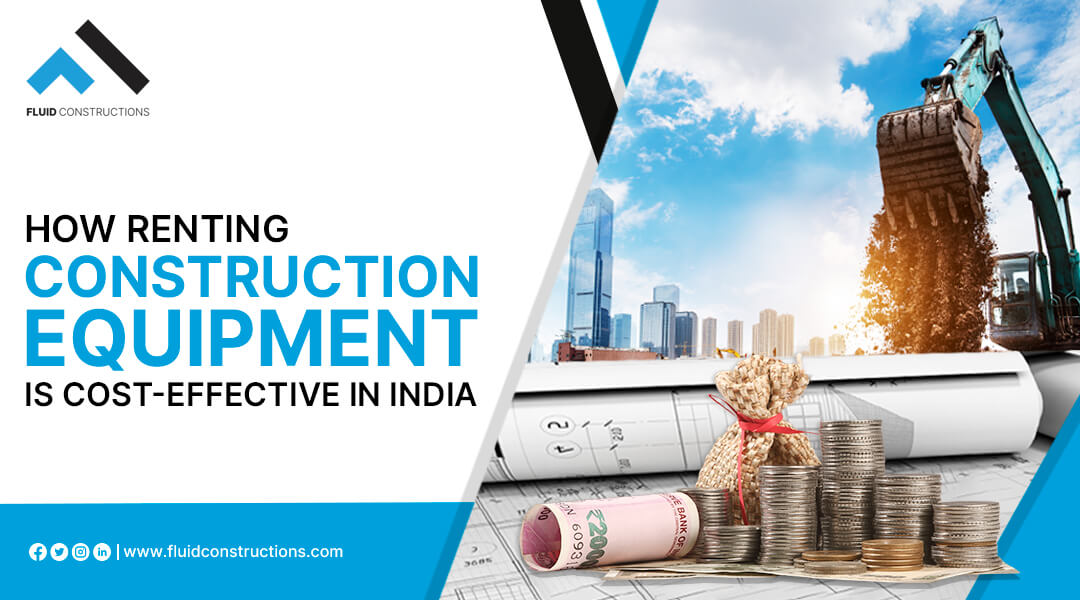 How Renting Construction Equipment Is Cost-Effective in India
Introduction:
Keeping money in mind before purchasing anything is always a good idea, also it helps one think about the opportunities and risks involved as well. Along with trends going on in day-to-day life, even renting construction equipment is trending. Here we read about how renting construction equipment is going to be cost-effective.
We often notice that any construction project goes beyond budget because of some estimates which were not accurate, heavy equipment is used and thus their maintenance takes in a lot of money, few design flaws and many such resources which take a toll by the project comes to an end.
At the end of every construction project, there comes a question in the mind of contractors of how they can save their money and get things done perfectly. To every problem, there is a solution and to this problem the solution is simple, the cost can be saved by renting all kinds of construction equipment. But first, we need to read about the services provided by FluidConstructions and how renting the equipment has helped our contractors to save their budget on an ongoing project.
We provide Pavement Milling, Soil Stabilization, Ready Mix Concrete, and Hot Mix Asphalt for the road development of the new road, national highways, and state highways. Along with road development, we provide services like Excavation for which the latest construction equipment used are excavators, soil stabilizers, graders, backhoe loaders, forklifts, wheel loaders, dozers, motor graders, tipper trucks, crushers, etc. 
Among all this equipment, the major one used on the construction site by our contractors is Excavators and this particular equipment costs a lot if anyone wants to own it, so the best we do is we rent it to the contractors for a suitable cost according to their projects. 
Technology helping grow:
Now that we all have a better solution for our contractors, we will read here to know about how renting this construction equipment is going to be cost-effective. Also, now that we are discussing cost-effectiveness, can we talk about how technology is helping everyone grow even in the construction industry? Technology is nowadays going hand-in-hand with everything that we do. Similarly, there are new updates that keep on happening in the equipment sector too, and the best technology in this sector is Telematics. Mostly all OEMs have created a telematics system for tracking the equipment. Telematics helps monitor systems and give alerts from battery levels to oil levels, hydraulics, and when maintenance is required. Let us now see how renting vs buying construction equipment will be cost-effective:
No Depreciation Costs:
When the construction machinery or construction equipment is owned by contractors, they incur considerable depreciation costs. Maintaining an OEM requires a large investment plus the upfront purchase. As the equipment is used, it starts to depreciate and thus makes it difficult to recover the actual initial investment made. Thus, considering construction equipment rental is a better idea for no depreciation costs.
Avoid the Initial Purchase Cost:
Buying new construction machinery or road construction machinery is very expensive and thus can make a big impact on the budget. Also, purchasing CE is a long-term investment as well. Renting construction equipment can avoid the upfront costs. Also, buying equipment may involve a higher cost to the buyer whereas renting can be a perfect opportunity for the contractors to save the costs.
Low Maintenance and Repair Costs:
Owning the equipment means maintaining it for better use. So one needs to check the hydraulics, repairs, oils, and parts regularly to keep the equipment completely maintained. Whereas renting the equipment may cost them a lesser amount for the repair and maintenance and they do not have to worry about the lifecycle of the equipment.
More Flexibility:
One of the major benefits of renting equipment is that it offers contractors flexibility in their business decisions. As mentioned before, buying or owning equipment is a big investment, investing up a huge portion of your money for the purchased asset for years. Renting construction equipment makes contractors more flexible because they can lease a wide range of equipment based on the nature of the projects at hand. 
Easy Exchange/Wider Range:
Purchasing expensive heavy equipment is a risk. For instance, after purchase, contractors may realize that the equipment isn't what they expected it to be for a specific project. In such a case, returning the equipment could be complicated. However, when you rent equipment it's easy to return it for the specific size or model you need. This allows you to pick the most appropriate equipment that fits your needs. 
Conclusion:
Although we have tried to explain the merits of why equipment should be rented instead of buying them, the final decision depends on the buyers and contractors. In addition, a combination of equipment rentals and purchases may be the most effective plan. In many instances, renting has some major advantages that benefit companies of all sizes by creating efficiencies and reducing logistical considerations.