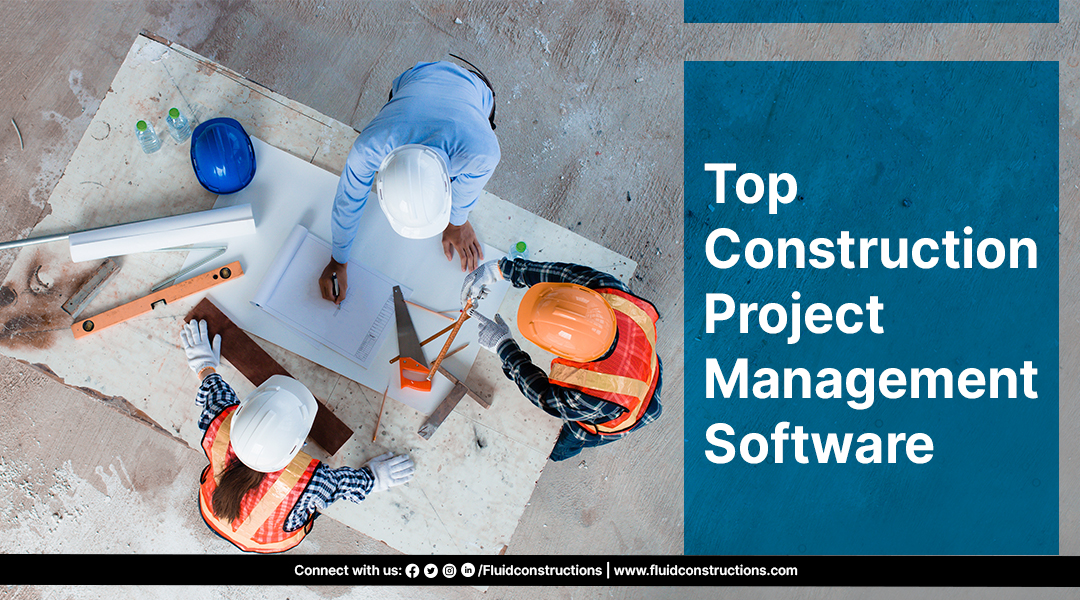 Top Construction Project Management Software
A construction project requires a plethora of procedures and tasks, both onsite and offsite, where connectivity, collaboration, and ready access to data make a big difference in the result. That explains why SaaS construction project management software are proving to be a gamechanger in the construction industry.
Saas or cloud technology allows team members to work from anywhere, access and exchange information on the road, and even remotely visit a worksite to ensure things are getting done. And the best part is there is no investment. You only pay when you use it. 
Why is SaaS important for construction project management?
SaaS is intrinsically fitting for construction projects for a lot of reasons. It offers a centralised repository for documents located across several locations as well as a single real-time collaboration platform. All stakeholders get access to up-to-date resources, including surveying information, plans, bids, and more, in order to keep projects on schedule and within budget.
Cloud-based construction project management software also includes capabilities for streamlining and transparent procurement and bidding processes. Owners of buildings and lots can establish their desired applicants and bids, and then allow the SaaS platform to automatically reject bidders that fall short.
SaaS has the potential to significantly enhance the life of construction companies. Multiple stakeholders can observe progress, compare plans and drawings to reality and ask and answer questions from any location using digital collaboration tools. Even as the stakeholders join and quit, SaaS helps to ensure data security and misinterpretation.
Below find the 10 leading SaaS construction project management software that are transforming the construction industry with their ranges of services: 
Autodesk Construction Cloud is a powerful software suite that simplifies construction project management. The software includes a number of capabilities that allow construction professionals to easily manage all aspects of their projects. Document management, project management, and field management capabilities are among the notable features of Autodesk Construction Cloud. 
Document management allows users to centrally store and access all project documents, such as drawings, specifications, and contracts. Teams can use project management software to track project progress, develop timetables, and cooperate successfully. Users can utilise field management tools to manage job sites, track issues and defects, and monitor construction activity in real time.
The software also has analytics and reporting capabilities, allowing users to obtain insights into project performance, identify areas for improvement, and make data-driven decisions. Overall, Autodesk Construction Cloud is a powerful tool that may assist construction professionals in optimising their processes, lowering expenses, and completing projects on time and on budget.
BIM 360 is a part of Autodesk Construction Cloud, providing SaaS for connecting, organising, and optimising your projects. BIM 360 is a unified platform that connects your project teams and gives access to data in real-time. It covers a wide range of construction processes, allowing for more informed decision-making and more predictable and lucrative outcomes.
BIM 360 software integrates, organises, and optimises your projects through a unified construction management platform, resulting in better decision-making and more predictable and lucrative outcomes. General contractors, subcontractors, architects, building engineers, civil engineers, and owners all use this software.
Procore is an all-round Construction Management Platform, an all-in-one building programme that is one of the top commercial project management tools. Because of Procore's open API flexibility, you can create a single source of accurate and up-to-date data that combines all of your siloed apps so you can access and receive information across platforms.
As a construction software solution, Procore works directly with its clients to ensure a high level of efficiency in all activities. It promises a 90% customer satisfaction rate on its website.
Buildertrend may be costly, but this cloud-based project management application is one of the best for improving construction project management in the building industry. This programme aids in the timely completion of projects and maximises client satisfaction by minimising delays and avoiding communication mistakes.
The Buildertrend feature set is designed to make every stage of the construction process easier, from client communication and document management to estimating, scheduling, and change order capabilities. 
Add documents and photos, create, assign, and track projects, integrate your favourite calendar to manage schedules, generate work-in-progress reports, and track money. Payment processing, bid requests, and invoicing are also covered. 
Furthermore, you may combine Buildertrend with your accounting software to have Buildertrend automatically update invoice information.
Contractor Foreman is a cloud-based software that follows the standard construction project management software paradigm. As long as you have the app loaded and an internet connection, you can access it from your mobile phone, PC, or tablet. 
Contractor Foreman's ease of use distinguishes it from its competitors. Its user interface has a straightforward flow that allows you to quickly access tasks, documents, customer information, work and modification orders, invoices, and punch lists.
It is critical to select a strategy that will help your project the most. The lower-tier plan includes the majority of what you need to manage a project. The more expensive package includes financial controls for bid management, job cost reports, digital signatures, and QuickBooks integration.
Creating daily reports is inconvenient. This software can help you save a significant amount of time while preparing daily reports. CDR – Construction Daily Reports is the simplest and most easily adjustable daily reporting solution for the construction industry, and it is available on our mobile app for Android and Apple devices, as well as our website portal. 
Customise your reports, enter your project data, and then use your mobile device to take photos and notes. When you finish your reports, CDR will automatically send them in professional PDF format to anyone you specify, while also preserving them on our servers and uploading them to your cloud storage provider! Simple-to-use construction programme that saves time. 
From proposals and bids to task and work administration, work Progress integrates multiple features and controls in one location for efficient construction project management. Contractors create the programme to guarantee that all functionalities are available and that it is straightforward to use. Users can delegate tasks to staff, organise client meetings, and track the progress of any ongoing projects.
Estimates and quotations, proposals and contracts, digital signatures, and bills are all possible with Job Progress. There's no need to use third-party storage services because Job Progress offers unlimited cloud storage for all of your documents, photos, and data. 
Job Progress integrates with QuickBooks, Google tools, and Zendesk, significantly enhancing the software's functionality. Using QB accounting connectivity, you will be able to sync invoices between your accounting and project management software; however, P&L will require manual entries in Job Progress and QB.
The ability to ensure that the right tool is always in the right place is critical for any project that heavily relies on tools and equipment. ToolHound's powerful tool and equipment management software delivers the performance and usability you need to get complete control of your tool and equipment inventory. 
ToolHound is a well-known inventory management application used by construction companies of various sizes. This equipment and tool management software has evolved from paper-based systems to primitive spreadsheets. 
ToolHound uses a comprehensive database in conjunction with a simple and precise bar code or RFID-based transaction system to manage the issue and return of tools to contractors and workers, as well as the transit of equipment between multiple job sites and tool room locations.
Houzz Pro is well-known business management software for home builders and designers. This provides a one-stop shop for the whole client lifecycle, including marketing, CRM, estimation and proposal development, and project management. 
This also helps with the development of 3D floor layouts, online invoicing and payment collection tools, and client collaboration tools. 
Fieldwire is a cloud-based project management solution that includes most of the tools needed to run a construction company. It can be utilised by general contractors and subcontractors in both residential and commercial projects.
Users may arrange jobs, view plans, and generate or access digital punch lists with Fieldwire, saving time both in the field and in the office.
Having all of your documents in one place simplifies providing transparency to clients by allowing them to view timestamps and RFIs as needed. Fieldwire requires the use of a third-party storage service like Dropbox. 
As a result, you'll almost certainly have to pay for a storage app in addition to Fieldwire. There is no tool for making bids or proposals, but you can create them yourself using custom forms and templates and track them in Fieldwire.