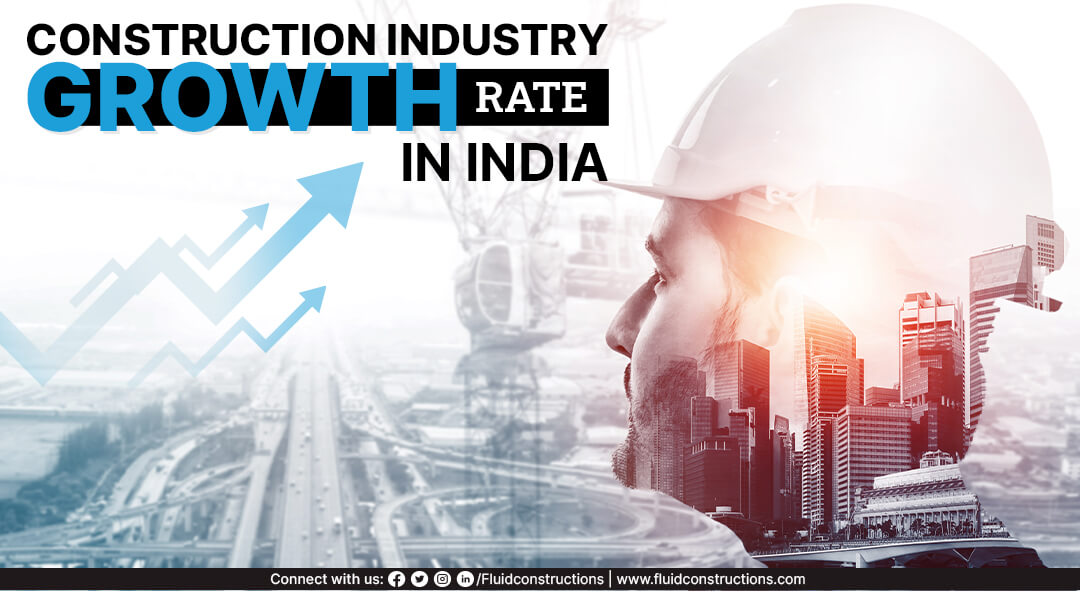 Construction industry growth rate in India
The performance of the construction industry is always under scrutiny because this is one of the major contributors to economic growth in a developing country like India. The state of the Indian construction industry, which was already battling with low demand for housing, was further ravaged by the Covid-19 lockdown in 2020 and 2021.
Therefore, standing in the JFM quarter of 2022, as the situation is slowly coming back to normal with the easing of Covid-19 restrictions, let's look at the chances of construction industry growth rate in India post-pandemic.
Construction industry growth estimation   
Construction constitutes a vast industry encompassing all the activities involved in residential, roads and highways infrastructure, industrial, and related projects. In comparison to almost zero productivity in 2020, the construction industry growth rate in India was 17.1 percent in 2021, thanks to continued relaxation of restrictions and increased focus on road and highways construction by the government.
In 2022, the industry is expected to grow by >6 percent (or even @10 percent according to some experts), riding on the increased budget allocations to housing, transportation, health, and energy infrastructure, and the government's focus on enabling new public-private partnerships to develop large-scale projects in these sectors.
The government's initiatives to boost housing and infrastructure will be the principal driver for the construction industry growth in 2022 and the next few years. For example, the government's plan to significantly increase the stock of affordable housing units for low and middle-income cohorts under the 'Housing for All' programme by 2022 will be one such contributor to growth.
Another such example is the INR 7 trillion ($92.4 billion) investment announced in December 2021 by the Ministry of Road Transport and Highways of India (MoRTH), for infrastructure projects to be completed over the next 2-3 years.
But on the other hand, due to rising construction costs, delays in land acquisition and tendering, and supply chain constraints, there could be impediments to construction progress in the short to medium term. The current Ukraine crisis is also expected to drive up the construction material cost even further,
Indian construction industry overview
The construction industry in India has recovered significantly from the 2020 recession, but it has also faced numerous headwinds that will still have their impacts in 2022. So, with the industry poised to capitalize on growth opportunities, 2022 is set to be a rewarding but challenging year.
According to the Global Construction Survey report for Q4 2021, the construction industry in India is expected to grow by 16.5 percent to INR 42,127 billion in 2022. Despite short-term challenges in certain construction sectors, India's medium to long-term growth story remains positive, and the construction industry in India is expected to expand steadily over the next four quarters.
With a CAGR of 9.5 percent between 2022 and 2026, the growth momentum is expected to continue throughout this period, projecting the country's construction output to reach INR 60,508.9 billion by 2026.
The future of construction industry
Construction, like other industries, is embracing digital technology solutions to increase productivity and stay ahead of the competition. The demand for construction project management software, apps, and other technological tools is no longer a passing fad, but rather a pressing necessity.
According to NITI Aayog, the Indian real estate sector will be worth $1 trillion by 2030 and will account for 13% of India's GDP by 2025. The real estate industry is already the third-largest contributor to economic growth, and it is expected to continue its upward trend in 2022.