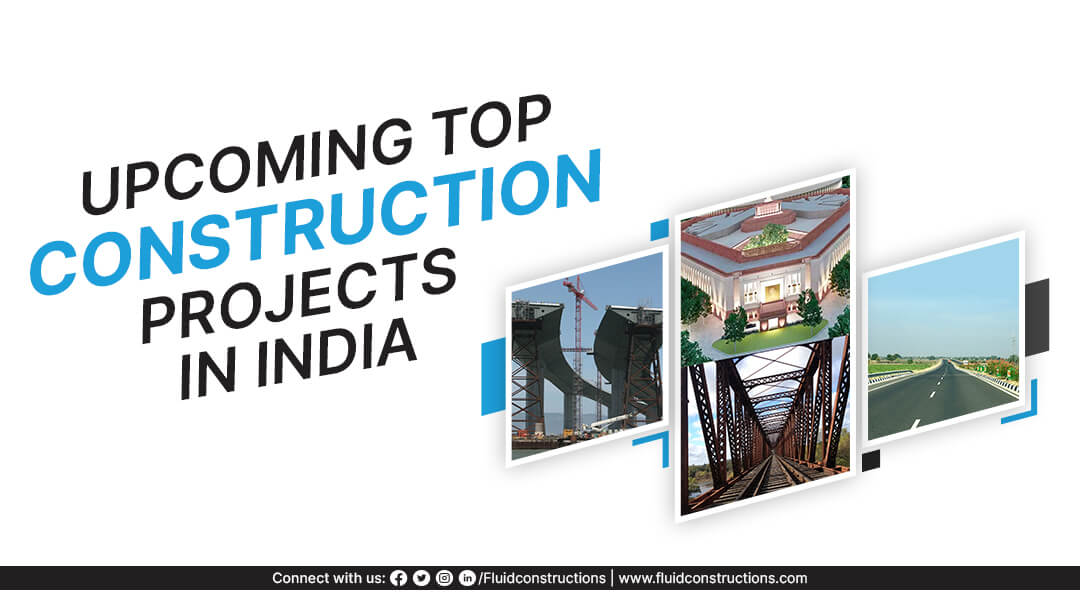 Upcoming Top Construction Projects in India
Read this blog further to get a sneak peak of the construction projects that will take India by storm!
Construction projects are no joke, and when they're underway, it's impossible to keep up with every single detail. Even if you're well-versed in reading about, researching, and following all of the latest construction projects happening all over the world, there is some level of difficulty that comes along with keeping track of them all.
The list below highlights some of the most anticipated and upcoming Indian construction projects for 2022. Keep reading to discover which ones you need to keep your eye on!
Mumbai Trans Harbour Link
The Mumbai Trans Harbour Link, also called the Sewri–Nhava Sheva Trans Harbour Link, is an upcoming construction project. It is a 21.8 km (13.5 mi) freeway, a 6-lane grade road bridge, that will link Mumbai with Navi Mumbai, its satellite city. When this project is completed, it will be the longest sea bridge in India. The bridge will start in Sewri, South Mumbai, will travel across Thane Creek north of Elephanta Island, and will end at Chirle, near Nhava Sheva. This route will be connected to the Mumbai–Pune Expressway in the east and the Western Freeway in the west. The 6-lane highway will measure 27 meters in width, in its expansion to two emergency exit lanes, an edge strip, and a crash barrier.
The project is estimated to cost Rs 17,843 crore. The MMRDA awarded agreements for the project in November 2017. The construction started in April 2018 and was planned to be complete within 4.5 years. But the construction was stalled by around 8 months due to the COVID-19 pandemic and is presently anticipated to conclude by September 2023. The MMRDA calculates that 70,000 automobiles will utilize the bridge daily after it opens. The MMRDA commented that the construction work would yield 115,419 man-months of employment. Prime Minister Narendra Modi laid the foundation for the project on 24 December 2016.
Central Vista Redevelopment Project
The Central Vista Redevelopment Project directs the ongoing redevelopment to rebuild Central Vista, India's central administrative area around Raisina Hill, New Delhi. This area was initially mapped out by Sir Edwin Lutyens and Sir Herbert Baker in British colonial power and was retained by the Indian Government post-independence.
Scheduled between 2020 and 2026, project 2020 aims to revamp a 3 km (1.9 mi) long Rajpath between Rashtrapati Bhavan and India Gate, convert North and South Blocks; to publicly accessible museums by creating a new common Central Secretariat to house all ministries, a new Parliament building near the present one with increased seating capacity for future expansion, new residence and office for the Vice-President and the Prime Minister near the North Block and South Block and convert some of the older structures into museums.
As India aims to expand its parliamentary membership by 2026, a new parliament building with increased seating capacity will be built beside the older one. 2026 is the target completion date for the project.
Delhi–Mumbai Expressway
The Delhi–Mumbai Expressway is a 1,350 km long, 8-lane wide (expandable to 12-lane) under-construction access-controlled expressway linking India's national capital, New Delhi, with its economic capital, Mumbai. The under-construction Vadodara–Mumbai Expressway has been comprehended in this project. The foundation brick of this project was laid by Union Minister Nitin Gadkari in the presence of Sushma Swaraj & Arun Jaitley on 8 March 2019. The whole project value including the land purchase cost is around ₹1,00,000 crores (US$13.1 billion). An extra 31 km long spur will also be completed by the NHAI from Noida International Airport in Jewar to Sector-65, Faridabad, on this expressway. Upon completion in March 2023, this expressway will evolve as India's most extended and most active expressway.
Initially, the route will be 8-lane wide with the greenfield-alignment way in backward areas, which will lower the current 24-hour travel time to 12 hours. The space and land for an additional four lanes will be secured in the middle of the highway for future expansion.
Navi Mumbai International Airport (NMIA)
The Navi Mumbai International Airport, officially Dinkar Balu Patil International Airport, is being constructed in Navi Mumbai, Maharashtra, India. It will operate in similarity as an alternative to Mumbai's existing Chhatrapati Shivaji Maharaj International Airport (CSMIA), as the second airport in the Mumbai Metropolitan Region. Once constructed, both airports will serve as India's first urban multi-airport system or metropolitan multi-airport system.
This airport is a greenfield international airport being constructed by the City and Industrial Development Corporation (CIDCO). It will be constructed in three stages, of which the first stage will be capable of handling 10 million passengers per annum. It will be expanded to its final capacity of more than 90 million passengers per year in the third phase. The construction of this airport began in August 2021 and is anticipated to be completely functional by December 2024.
Bharatmala
The Bharatmala Pariyojana is a centrally-promoted and financed road and highways project of the Indian Government. The complete investment for 83,677 km (51,994 mi) of new highways is calculated at 10.63 lakh crore (US$130 billion), creating the single largest cost for a government road construction scheme (as of March 2022). This project will build routes from Maharashtra, Gujarat, Rajasthan, Punjab, and Haryana covering the entire row of Himalayan territories-Jammu and Kashmir, Himachal Pradesh, and Uttarakhand-and then parts of the borders of UP and Bihar along the side of the Terai, and drive to West Bengal, Sikkim, Assam, Arunachal Pradesh, and right up to the Indo-Myanmar border in Manipur and Mizoram. Special focus will be given to offering connectivity to the far-flung boundary and rural locations, including the tribal and rearward areas. The Bharatmala Project will interconnect 550 district headquarters (from the current 300) via a minimum 4-lane route by expanding the number of corridors to 50 (from the current 6) and drive 80% of freight traffic (40% currently) to national highways by interconnecting 24 logistics parks. The complete length of 34,800 km (21,600 mi) of routes will be constructed under phase I by December 2022, including 24,800 km (15,400 mi) of new highways.
Project Sagar Mala
The Sagarmala Project is an initiative by the Indian government to improve the performance of the country's logistics sector. The programme anticipates opening the potential of waterways and the coastline to reduce the infrastructural investments required to meet these targets. It entails funding 8.5 trillion (equivalent to 9.7 trillion, US$120 billion or €120 billion in 2020) (2018) to fix up new mega ports; modernise India's existing ports; improve port connectivity via road, rail, multi-modal logistics parks, pipelines, and waterways; and encourage coastal community development, to enable merchandise exports by US$110 billion and yield around 10 million direct and indirect jobs.
The Sagarmala Programme is the flagship programme of the Ministry of Shipping to upgrade port-led growth in the country by using India's 7,517 km of coastline, 14,500 km of potentially passable waterways, and its strategic location on key international maritime trade routes. Sagarmala seeks to update the ports of India so that port-led outcomes can be increased and coastlines can be developed to contribute to India's growth. A roadmap has been designed and scheduled for improving the Indian port capability to over 3500 million tonnes per year by 2025 to cater to the growing traffic.
In case you've been living under a construction bough, India is an incredible country that has come a long way in recent years. With more and more infrastructure projects coming each year to cope with the rapid growth of its population, it is no wonder that Indian companies are now involved in construction throughout the globe. Keep an eye on this space to read such constructive news and updates.